Our work in Central America aims to leverage the region's existing climate learning experience and capacities through a concrete action plan that creates synergies among participating countries. Implementing priority actions collaboratively will also help scale up long-term impact.
We are undertaking this work with our partners, the Members of the Central American Integration System (SICA). Our collaboration is part of the implementation of the 2010 Regional Strategy on Climate Change.
National climate change learning activities are scaled-up through regional cooperation and experience-sharing" – Central American Hub Vision
Our objectives in Central America include:
Fostering a higher quality public debate about climate change informed by evidence-based media coverage and awareness-raising activities;
Integrating climate change in national education systems throughout the region building on existing experiences;
Equipping professionals in Central America with the competencies they need to address the climate change issues facing the region;
Increasing capacities of national and regional training institutions to act as climate change education and training service providers;
Strengthening regional cooperation to maximize synergies, foster an efficient use of resources, and channel funding.
Developing a Regional Action Plan on Climate Change Education, Training and Awareness-raising
UN CC:Learn facilitated a process through which the eight SICA Member States developed a joint Regional Action Plan on Climate Change Education, Training and Awareness Raising. The Regional Plan, approved in 2017, is the first of its kind, setting out an ambitious plan for collaborative action to build capacities to adapt to climate change risks, and profit from investment opportunities.
View the regional strategy, available in Spanish, here: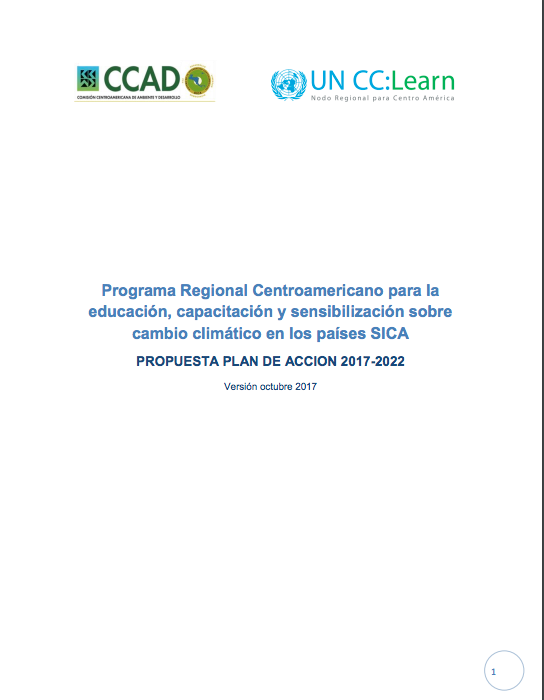 SICA Member States have developed a joint project proposal to mobilize resources from national, bilateral and multi-lateral sources, and the private sector. At the same time, SICA Member States are working on the 2018-2022 implementation plan for the Regional Strategy on Climate Change. Education, training and awareness-raising is an important component.
At the beginning of the process, a background report was prepared to review existing capacities in Central American countries to deliver climate change learning. The report also outlines learning priorities for education, training and public awareness-raising.
View the background report, available in Spanish, here: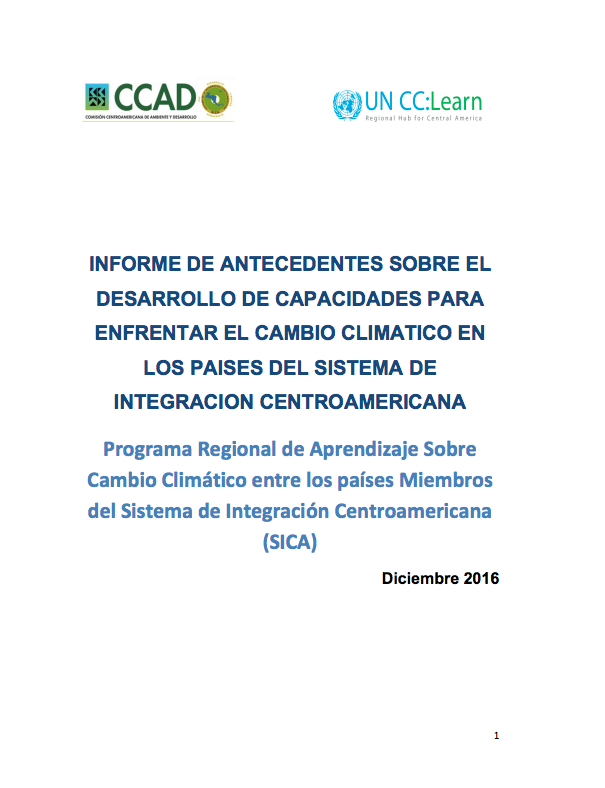 Putting the Action Plan into Practice
Since 2016, many activities have taken place to improve climate learning in Central America. These include:
In February 2016, SICA Member States hosted Youth Climate Dialogues bringing together young people from Costa Rica, Guatemala, Panama and the Dominican Republic to share their concerns and ideas about climate change in the region.
In 2017, all SICA countries joined forces to create a short video about the common challenges climate change poses to the countries in the region.
SICA countries developed a regional project proposal to implement the 2017-2022 Action Plan. They are working collaboratively to mobilize financial support for it.
Climate change educational materials for use across the region are now available.
Our Regional Partners
The regional hub is managed from the Dominican Republic, in close cooperation with the Secretariat of the Central American Commission for Environment and Development (CCAD) and the Central American Education and Cultural Coordination (CECC).
Contact
Consejo Nacional para el Cambio Climático y Mecanismo de Desarrollo Limpio (CNCCMDL)
Av. Winston Churchill, No.77
Santo Domingo
Dominican Republic
Phone: +1 (809) 472-0537
Regional News and Activities  
Central American Commission approves Regional Action Plan for Climate Change Learning
27 October 2017 | Santo Domingo, Dominican Republic
SICA Member Countries Promote Public Policy for Sustainable Development and Climate Change Education
10 July 2017 | San Jose, Costa Rica
SICA Countries Define Their Next Regional Climate Change Learning Project
10 April 2017 | Santo Domingo, the Dominican Republic
UN CC:Learn Partner Countries Meet in Addis Ababa to Discuss Climate Change Education and Finance
24 March 2017 | Addis Ababa, Ethiopia
Countries in Central America Discuss Priorities for Climate Change Education Financing
23 March 2017 | Online
Central American Ministers Highlight the Importance of a Regional Approach to Climate Change Learning
15 March 2017 | San Jose, Costa Rica
Regional Integration on Climate Change Education in Central America – UN CC:Learn Ambassador Mr. Ramirez Tejada Tells Politicians and Diplomats that It Is Time to Focus on the Next Generation
09 March 2015 | Antigua, Guatemala
UN CC:Learn to Be Scaled Up Across Central America
07 February 2014 | El Salvador