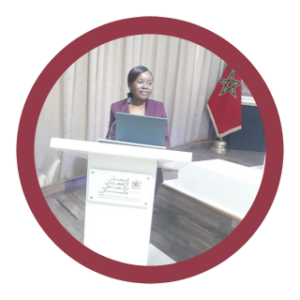 From learning about climate change to contributing to climate projects. This what Ornelia Koumba Moussavou, a young Gabonese women has to tell!
Ornelia has a degree in International Studies from the Faculty of Legal, Economic and Social Sciences at Hassan II University in Mohammedia, Morocco. Throughout her life, she has always had an interest in climate change, which led her to the "Climate change: From learning to action" e-course on UN CC:e-Learn. She enrolled in the course and completed it, receiving an official certificate from the UN on completion.
As a young graduate, she started applying for internships in the environmental field. In her job search, she came across a position at  the Economic, Social and Environmental Council (CESE) of the Kingdom of Morocco, which currently holds the presidency of the Union of African Economic and Social Councils and Similar Institutions (UCESA). Her knowledge of climate change, acquired through the online UN CC:Learn course, helped her get the job and has assisted her in her daily tasks in this new role.
The internship enabled her to work on some interesting projects, including one on climate change awareness in 16 other African countries. The project shed light on how Africa's citizens perceive climate change. To this end, a qualitative and quantitative study was put together, and 8200 citizens took part in it. The results were presented at COP27, in Sharm-el-Sheik in Egypt. Ornelia contributed to drafting this document which provides policy guidance and practical recommendations for inclusive and coordinated climate action by and for African citizens.
"The UN CC:Learn course gave me the necessary foundation for carrying out my climate-related tasks. After this course, I'm sure I will be able to tackle new challenges in the climate change field." – Ornélia Koumba, 2022 UN CC:Learn Champion