Air pollution is a complex issue that impacts people's health, the environment, and the world economy. Air pollution can originate from a broad range of sources so addressing this challenge is not always evident and straightforward. However, understanding how to properly report emissions inventories is one of the key steps that countries must take to tackle air pollution.
In this context, United Nations Economic Commission for Europe (UNECE) member States have been working successfully for cleaner air in Europe since 1979 through the Convention on Long-range Transboundary Air Pollution. As signatories to the convention, they have a basic obligation to report their emissions inventories, which quantifies air pollutants and/or greenhouse gases emitted into the atmosphere in a defined geographical area and time span.
To support UNECE member states, the newly affiliated "How to Report Emissions under the Convention on Long-range Transboundary Air Pollution" e-course, developed by UNECE, explains the importance of emission inventories for clean air policy development, the requirements for emission inventory reporting and methods for emission estimation. This e-course is currently available in English, with a Russian version in the pipeline, and builds on the "Convention on Long-range Transboundary Air Pollution" affiliated e-course, available since 2022 on UN CC:e-Learnin English and Russian.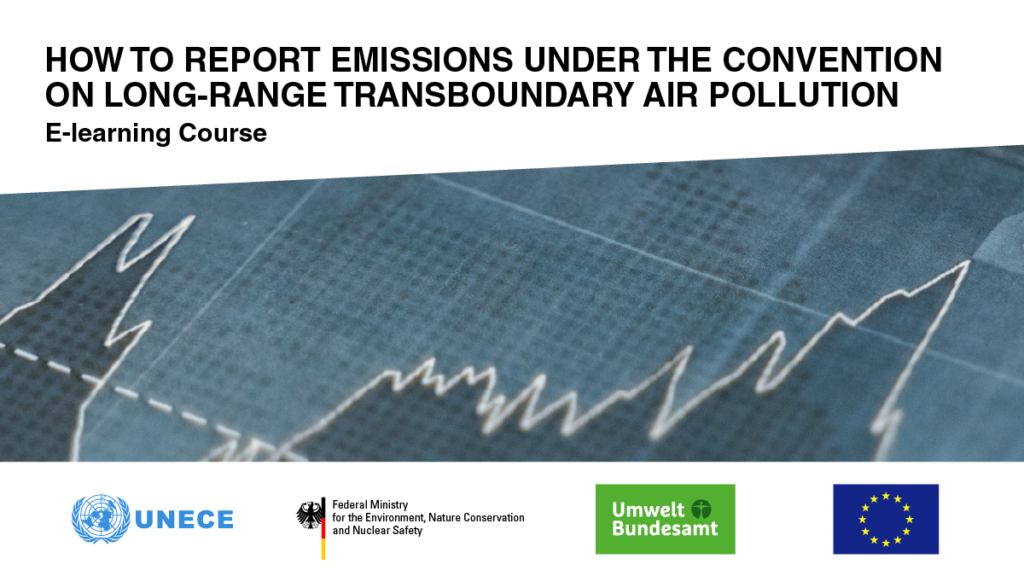 Who should take this course?
The course will be particularly useful for Ministries and technical institutes dealing with the Convention, academics, and NGOs and anyone else wishing to learn more about emission reporting under the Convention.
Learning Objectives 
The course features three distinct modules that aim to equip learners with the knowledge and resource materials to understand the purpose of emission inventories, to follow the reporting process under the Convention and to contribute to emission inventory development.
Upon completing the course, participants will be able to:
Explain what an emission inventory is
Identify substances that are released into the atmosphere from various human activities
Describe how emission inventories contribute to the development of clean air policy at national and international levels
Outline the objectives, scope and principles of the Guidelines for reporting developed under the Convention
List different source categories covered by reporting obligations
Outline the principles of completing the reporting templates
Describe different emission estimation methods used under the Convention
Certification and Evaluation
To successfully complete the course and gain a Certificate of Completion, participants can take an end-of-course assessment. Once the certification criteria have been met (passing score 70%), and after completing a course evaluation form, participants will be able to download their certificate from the course's webpage.
Affiliation programme
The UN CC:Learn affiliation programme highlights high-quality e-learning products on climate change developed by recognized institutions outside the framework of the UN CC:Learn programme / without support from the UN CC:Learn Secretariat, in accordance with specific affiliation criteria. The objective of the UN CC:Learn affiliation programme is to enhance global climate literacy through dissemination of high-level learning products that complement UN CC:Learn resources.