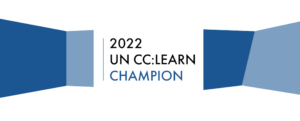 Last year, we reach an important milestone: the issuance of the 200,000th certificate from our e-learning platform 🎉
To mark this important achievement, we ran our second edition of a competition on climate action among our alumni. We asked them: "what climate actions have you taken as a result of completing one of our e-courses?". Hundreds of stories from all corners of the world were submitted. Thank you to everyone who participated in this competition!
After a thorough selection process, eleven learners have been selected to receive the award of 2022 UN CC:Learn Champion. Well done! 🏆
Now, we welcome you to meet our winners and read their inspiring stories on what they are doing to tackle climate change in their local communities.
Every week, two stories will be revealed. When their photos are clear, click on their names to check his/her story: