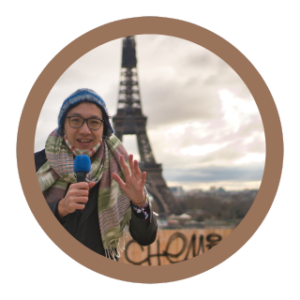 Climate change is a complex issue, but one thing is certain: youth will have an important role to play in addressing it. Dinh-Long Pham, a podcast host from France, is giving a platform for youth to showcase their climate efforts and voice their concerns about the climate crisis. Dinh-Long is the founder of the Life Line podcast, which features young changemakers from different walks of life who work hard to make the world a better place. His podcast aims to amplify the voices of the youth and inspire as many people as possible to take action, including on climate change.  He started interviewing people on climate change action after coming across UN CC:e-Learn. The courses there increased his understanding about the topic and sparked an interest in bringing it to the fore of his discussions.
On the topic of climate change specifically, Dinh-Long has interviewed several young climate activists and entrepreneurs over the past few years, giving them a platform to speak out and showcase their work. During the hour-long conversations, he strives to help the audience get climate action insights that are applicable to their own contexts while highlighting the linkages between climate action and the Sustainable Development Goals. Here's a few examples:
Moving forward, Dinh-Long is planning to start a podcast series fully focused on climate change which breaks down key topics for the audience.
"The UN CC:Learn courses also helped me in shaping this narrative, by highlighting the link of climate change with all SDGs, and the link of all SDGs with climate change." – Dinh-Long Pham, 2022 UN CC:Learn Champion
___________________________________________________________________________________________________________
Want to do like Dinh-Long and start learning about climate change in order to take action for the climate?
Take our Climate Quiz first and test your knowledge to find out where to start! This short quiz will give you immediate recommendations on how to advance your climate change knowledge.