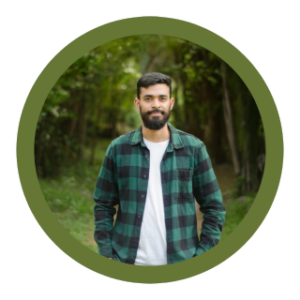 I am Colombian, I studied to be a teacher, with emphasis on biology, I hold a master's degree in environmental management for sustainability and recently started a doctorate in sustainability sciences at the National Autonomous University of Mexico. Currently, I'm living in the State of Veracruz (Mexico), where there are different regional problems associated with climate change, such as increased desertification, extreme increase in temperatures, changes in rainfall, early hot seasons, disappearance of glaciers, deforestation, etc. In particular, I have been considering the correlation between the globalised agri-food system and climate change, this being a sector that is strongly linked to the causes of this phenomenon, but also one of those most affected by it. In this regard, I am concerned about the carbon footprint of the agricultural sector caused by conventional practices and processes that do not allow carbon sequestration underground. For example, the excessive use of agrochemicals, the long distances that food travels and the inappropriate disposal of organic solid waste.
I have had the opportunity to take part in technical advisory processes for agro-ecological transition, training on sustainable agricultural management, and raising awareness of the multiple associated crises. These activities have been aimed at educational communities, groups of farmers in rural areas and citizens who practice urban and peri-urban agriculture. In particular, having urban orchards and rural plots, as ideal spaces for the exchange of knowledge and practices. My work has focused on promoting agro-ecology as a viable alternative to build sustainable agri-food systems, essentially through the adoption of good agricultural practices in urban and rural communities.
My objective has been to promote agro-ecological transition to design and manage agro-ecosystems resilient to climate change. This has led me to design didactic materials and encourage training processes on multiple agro-ecological practices. For example, fallow, reduced soil tillage, composting, organic fertiliser, soil mulch, use of native seeds, crop association and rotation, use of living barriers and hedges, integrated water management and short marketing circuits. All of this is crucial for agriculture to adapt to climate change and to continue to ensure food security.
During these multidimensional processes, the lessons learned on climate change obtained from the UN CC:Learn platform have been very useful to me; firstly, because they have provided the technical-scientific foundations for my social interventions and, secondly, because they have allowed me to relate climate change to the nutrition, health and well-being of communities. In addition, something that I value highly is the gender approach within the training, not only to highlight the vulnerability of women to adverse climatic conditions, but also to value their work as agricultural labourers.
During these last years, I have always had the support of valuable teams such as the Agro-ecological Garden of the Faculty of Biology (Universidad Veracruzana), Conselva Costas y Comunidades (Mazatlán, Sinaloa) and the Civil Association "Caminos del Buen Vivir" (Teocelo, Veracruz). Without a doubt, collaborating with different environmental groups that defend climate action, take care of the territory and contribute with concrete actions such as composting and local food production. Aspects that help to consolidate sustainable lifestyles, rebuild the social fabric, complete the circularity of city life and build resilient cities for new and future generations.
Thanks to different community experiences, I can now definitely affirm that the valuable participation of women is key in the agro-ecological transition towards sustainable food systems. Therefore, it is essential to consider their voices and discourses, as well as their desires and feelings when promoting this type of projects and initiatives. Personally, I believe that rural women have ancestral knowledge about favourable agricultural practices, as well as particular skills in conserving seeds and generating innovations for a better future.