Building and Implementing a National Climate Change Learning Strategy
Together with the government of Malawi and key stakeholders, UN CC:Learn facilitated the development the country's first national climate learning strategy, which was launched in 2013.
Malawi will become a knowledge-driven climate change resilient population by 2030, pursuing a low carbon emission development path – Strategy vision
The strategy sets out the following objectives:
Developing a critical mass of human resources with the requisite understanding, knowledge and skills to respond to the impacts of climate change,
Strengthening the national institutions and systems that will spearhead climate change training initiatives, and
Developing a sustainable financing mechanism for climate change learning programmes.
Priority actions include climate change training for frontline forestry personnel and health surveillance assistants, and the promotion of climate change education across society.
Responsibility for implementing the strategy rests with the Ministry of Environment and Climate Change Management through its National Climate Change Programme Office, in collaboration with line ministries, national training and learning institutions and other stakeholders.
The strategy is available in English and can be downloaded below: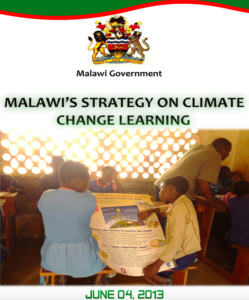 Our National Partners
Our work in Malawi is implemented through the country's National Climate Change Programme, including the National Climate Change Steering Committee, the National Climate Change Technical Committee and the Government/Development Partners Working Group.
The Ministry of Natural Resources, Energy and Environment is coordinating the UN CC:Learn Project in Malawi in cooperation with the Ministry of Finance, Economic Planning and Development.
Contacts
Ms. Jane Swira
Manager, National Climate Change Programme
Email: jane.swira@undp.org
Ms. Shamiso Najira
Chief Environmental Officer & Focal Point for CDM
Environmental Affairs Department
Email: shamiso.najira@gmail.com
UN Country Team Liaison
Ms. Sarah McIvor
Programme Analyst
UN Development Programme (UNDP) Malawi
Email: sarah.mcivor@undp.org
Project News and Activities
Malawi Set to Review its Climate Change Learning Strategy
12-13 March 2020 | Lilongwe, Malawi
UN CC:Learn Ambassador Ms. Shamiso Najira Inspires Zambia
16-17 July 2019 | Lusaka, Zambia
Ms. Shamiso Najira, UN CC:Learn Ambassador for Climate Change Learning of Malawi, Facilitates Youth Exchange on Climate Change
15 March 2016 | Geneva, Switzerland
Youth Climate Dialogues between Switzerland and Malawi
05 November 2015 | St. Gallen, Switzerland
Malawi Launches Secondary School Sourcebook on Climate Change
20 October 2015 | Lilongwe, Malawi
Malawi's Latest Step in Promoting Climate Change Education
27 September 2014 | Malawi
Malawi Government Trains over 250 Frontline Forestry Personnel on Climate Change
09 October 2013 | Muzuzu, Malawi
Malawi Launches its Climate Change Learning Strategy: Already 4 Million Primary School Girls and Boys Reached and 400 Workers Trained
18 September 2013 | Lilongwe, Malawi,
Malawi Designs and Field Tests an Educational Poster on Climate Change for Primary School Teaching
26 July 2013 | Liwonde, Malawi
Malawi Develops Learning Strategy as Part of Comprehensive National Climate Change Response Framework
19 March 2013 | Lilongwe, Malawi
UN CC:Learn Planning Workshop in Malawi Strengthens Linkage between National Climate Change Programme and Education and Training System
12 March 2012 | Salima, Malawi
Malawi National Workshop on Climate Change Negotiations Features Session on National UN CC:Learn Project
17 November 2011 | Lilongwe, Malawi,
Indonesia and Malawi Join Group of UN CC:Learn Pilot Countries with Additional Support of the Swiss Development Cooperation
14 October 2011 | Geneva, Switzerland