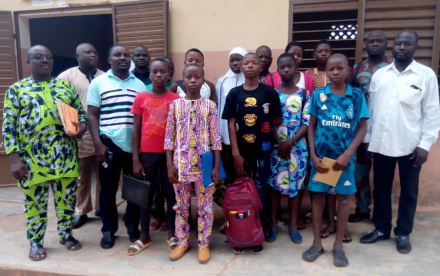 Building and Implementing a National Climate Change Learning Strategy
Benin has developed a national climate change learning strategy through a process that engaged a diverse range of stakeholders. In December 2012, the strategy was validated at a workshop in Cotonou that brought together over 50 participants from government sectors, such as environment, economy, education, development, finance, forestry, fisheries, agriculture, energy, water and coastal protection; education and training institutions; civil society; and development partners. An implementation framework was agreed upon.
The strategy is available in French and can be downloaded below: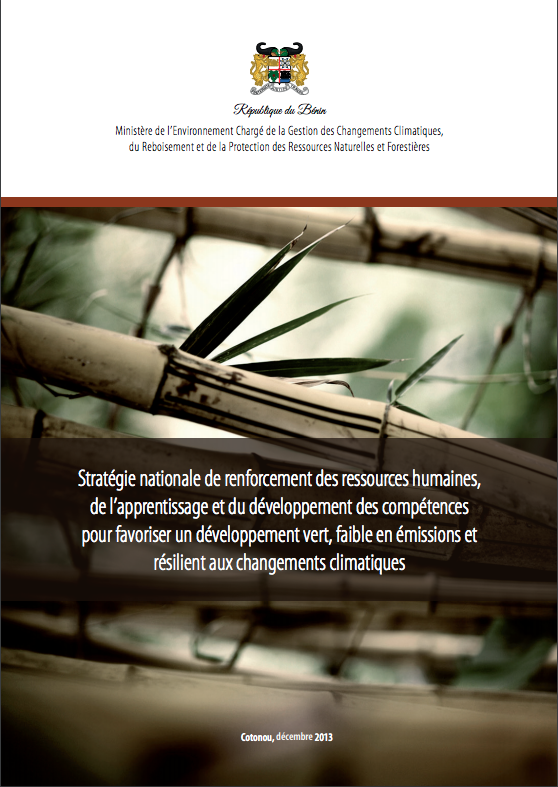 To support the strategy development and implementation, a background report was developed to identify existing initiatives working towards capacity development and to make sure that the strategy complements and reinforces ongoing work. The report also outlines actions to strengthen climate change education and identifies key organizations working in this field.
The report is available in French and can be downloaded below: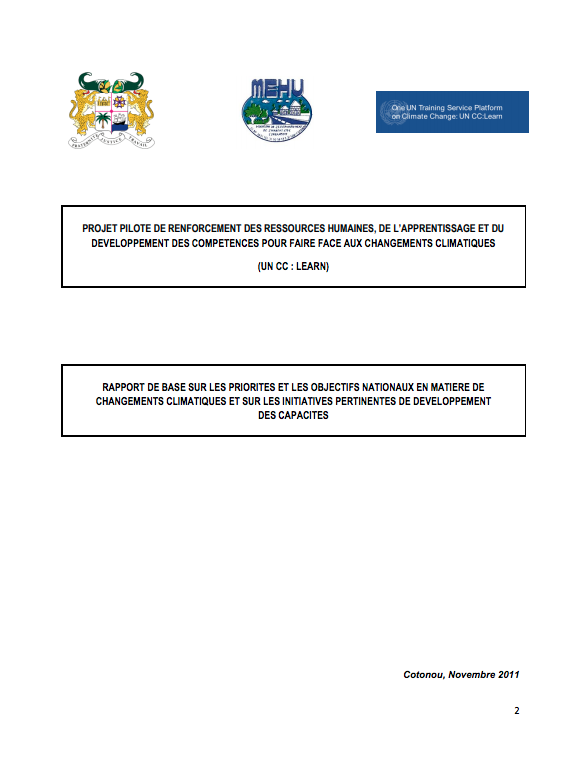 Our National Partners
Our work in Benin is coordinated through a National Steering Committee, Comité de Pilotage, that brings together stakeholders from different sectors and communities of interest. We benefit from advice provided by a scientific and technical committee. The work of both committees is linked to the country's National Climate Change Committee.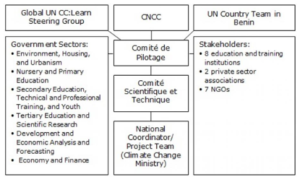 The Ministry of Living Environment and Sustainable Development hosts our project coordinator.
Contacts
National Coordinator
Mr. Médard Comlan Ouinakonhan
ACE Focal Point, Coordinator, National UN CC:Learn Project
Ministry of Living Environment and Sustainable Development
01 BP 3621
Cotonou
UN Country Team Liaison
Mr. Constant Houndenou
National Climate Change Policy Adviser
UN Development Programme (UNDP) Benin
Phone: +229 21 31 30 45
Email: constant.houndenou@undp.org
Project News and Activities
School Contest Trains Young People of Benin on Climate Change
15 October 2019 | Cotonou, Benin
Mr. Léonce Glèlè Ahanhanzo Presents his Experience as a UN CC:Learn Ambassador
05 August 2015
Training for Climate Negotiators Organized in Benin
23 January 2014 | Ouidah, Benin
Benin Government Builds Capacities to Access Climate Finance
27 October 2013 | Bohicon, Benin
Benin Defines the Implementation Framework for National Human Resources and Skills Strategy to Address Climate Change
19 December 2012 | Cotonou, Benin
Government Sectors and Stakeholders in Benin Advance Development of Priority Action to Strengthen Climate Change Learning
06 June 2012 | Cotonou, Benin
Government and Stakeholders in Benin Support a Strategic Approach to Climate Change Learning and Skills Development
10 November 2011 | Cotonou, Benin