The government of Zambia, through the Ministry of Lands and Natural Resources, the Zambia Environmental Management Agency (ZEMA) and Zambia Climate Change Network (ZCCN) held a validation workshop on 30th September 2020, to validate the National Climate Change Learning Strategy (NCCLS) developed in partnership with UN CC:Learn. The event took place at Fringilla Lodge, in the city of Chisamba, and brought together key stakeholders who worked together on the development of the strategy.
The event kicked off with Mr. Nyirenda B. Steven, the Coordinator for the Zambia Climate Change Network, highlighting ZCCN's role in disseminating climate change information. He acknowledged the fruitful partnership between ZCCN, ZEMA, the Ministry and UN CC:Learn that made the development of the NCCLS possible.
He was followed by Mr. Friday Phiri, the Assistant Communication Manager at ZEMA, who stressed that climate change is a serious global challenge that is already affecting Zambia. He recognized that the newly developed strategy would help build capacity on and promote climate change awareness within Zambia, especially among journalists, which would contribute to the dissemination of accurate climate change information.
The validation of the strategy was the culmination of a thorough review process. The first draft underwent 4 internal review phases before being brought for validation.  And Mr. Angus Mackay, the Head of the UN CC:Learn Secretariat, who joined the event virtually, acknowledged all this hard work in his remarks. He congratulated Zambia for achieving this important milestone and reminded everyone that, despite the negative impacts of Covid-19, the work towards the validation of the strategy progressed.
The pathway to the validation was as follows: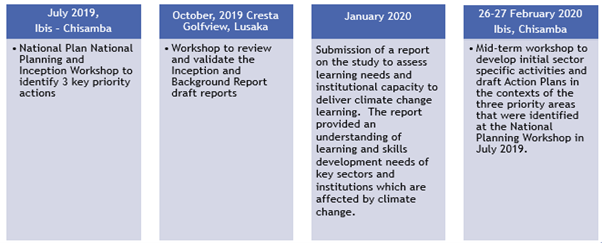 The Ministry of Lands and Natural resources was represented by Ms. Carol Mwape Zulu, Chief Climate Change Officer at Department Climate Change and Natural Resources Management. In her opening remarks, she stated that the Ministry is giving serious attention to all efforts aimed at raising awareness on climate change as this will empower key stakeholders to undertake actions to address mitigation and adaptation needs.
Regarding the implementation of the NCCLS, it was accorded that actions to build a climate resilient Zambia by end of 2030 will be achieved in three phases: short term (1 to 2 years), medium term (3 to 5 years) and long term (6 to 10 years). To attain all the strategy's objectives, a workplan laying out the implementation process has been developed. The main implementation goals in the strategy are:
Raise awareness and strengthen climate change knowledge.
Build individual and institutional capacity in climate change mitigation and adaptation.
Mainstream climate change learning into national development planning.
To find out more about UN CC:Learn work in Zambia, click here.