7 August 2014, Kampala, Uganda. Uganda's Climate Change Unit is investing in the national climate change desk officer network; a cross sectoral group of 40 individuals drawn from all branches of government, also including NGO and private sector representatives.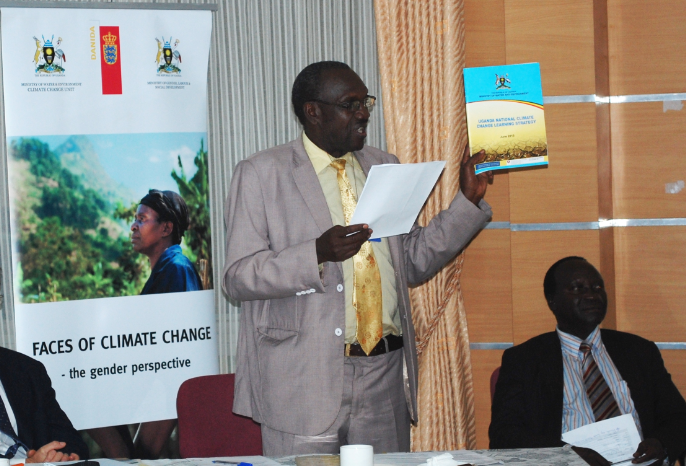 Engineer Richard Cong opens the desk officer training event
With support from the UN CC:Learn programme, a two day training event for desk officers was organized from 7-8 August. The event was opened by Ministry of Water and Environment (MWE) Official, Engineer Richard Cong, on behalf of Permanent Secretary David Obong. "To advance [our National Development Plans], we require well prepared and skilled human resources", said Mr Cong in his remarks. He also took the opportunity to express his "sincere gratitude and thanks to the Swiss Government for the financial support extended to Uganda". Participants included representatives from more than 30 sectors and other organizations including front line Ministries such as Education and Sports, Finance, Planning and Economic Development, Local Government, and Office of the Prime Minister. The event was also used to launch the UN CC:Learn Introductory e-Learning Course on Climate Change in Uganda.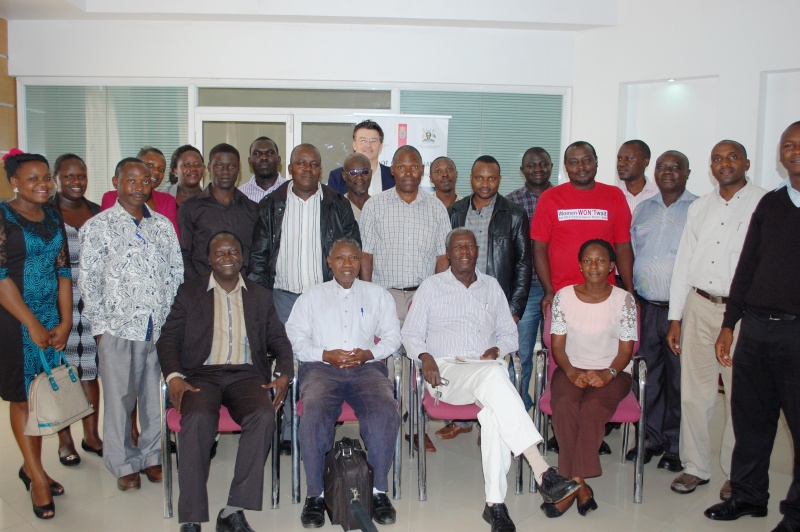 Participants of the training of Climate Change Desk Officers from various ministries at Pan Afrique Hotel, Kampala
"This training aims to strengthen the knowledge and skills of climate change desk officers and build their capacities to develop bankable climate change projects" said Chebet Maikut, the Deputy Coordinator of the Climate Change Unit* (MWE). Mr Angus Mackay, Head of the UN Climate Change Learn (UN CC:Learn) Secretariat,  stressed the two-fold challenge of both (1) understanding the complexities of climate change while also (2) convincing other ministerial colleagues to support related action on the ground.
"You are not alone" was one of the key themes of the training, with the Climate Change Unit committing further support for the desk officer network. This event is part of a series of efforts to strengthen knowledge and understanding of climate change issues across government, also receiving support from the Danish Government and UNDP.  Next steps will include technical support for the development of project concepts fit for financing.
This event was organized as part of the implementation of Uganda's National Climate Change Strategy developped through the UN CC:Learn project in Uganda.
About UN CC:Learn
UN CC:Learn is a partnership of 33 multilateral organizations which supports Member States in designing and implementing results-oriented and sustainable learning to address climate change. The Secretariat for UN CC:Learn is provided by UNITAR. An important aspect of UN CC:Learn is to support countries develop a National Climate Change Learning Strategy through a multi-sectoral and multi-stakeholder process. During the course of 2012-2013, Benin, the Dominican Republic, Indonesia, Malawi, and Uganda are participating as UN CC:Learn pilot countries. Funding for UN CC:Learn is provided by the Swiss Government.