The Governing Council of the Ugandan National Curriculum Development Centre (NCDC), Ministry of Education and Sports, has approved two Climate Change Readers for use in primary schools nationally, as additional materials supplementing the national curriculum. The readers, which were developed with support from UN CC:Learn, provide an introduction to climate change through storytelling, will be used by teachers and their students in the P4-P7 primary age range.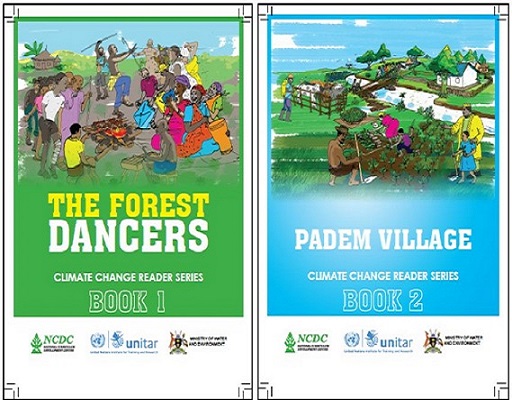 The Forest Dancer, Climate Change, Reader Series, Book 1 (P4-P5) addresses the themes: weather changes around us, and what about climate? The story focuses on a forest–dependent community that learns to care for its environment so as to minimize extreme weather changes that eventually lead to climate change.
Padem Village, Climate Change, Reader Series, Book 2 (P6-P7) addresses the themes: causes and effects of climate change, and what can I do? The book tells about the village of Padem, recently affected by drought and famine, and how its people learn about climate change and resolve to work together for their environment so as to minimize the effects of climate change.
The use of supplementary materials in this way represents a flexible way of strengthening the national curriculum without having to wait for formal curriculum reform, which occurs every 5-7 years. Others countries in the region are following the Ugandan example, including Malawi and Ethiopia. UNESCO has recently published a new report on climate change and education: Not Just Hot Air, Putting Climate Change Education into Practice.