The topic of Climate Change, Natural Resources and Environmental Management is among the nine priority areas included in Malawi's Growth and Development Strategy, the country's national medium term development strategy. In order to ensure that human resource capacities are sufficient to address this priority, Malawi, through the National UN CC:Learn Project on "Strengthening Human Resources and Skills to Address Climate Change", conducted a two-day National Planning Workshop from 7 to 8  March 2012, in Salima. The event was organized by the Ministry of Finance and Development Planning and brought together 40 participants from various government sectors, education and training institutions, civil society, and international development partners (UNDP, UNITAR, WFP).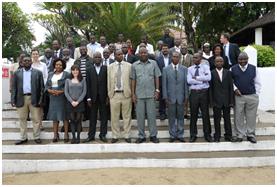 Session 1: Opening and Introduction
Mr. Yona Kamphale, Director of Economic Planning, in the Ministry of Finance and Development Planning, opened the workshop on behalf of the Principal Secretary, Mr. Ted Sitima-wina. "The UN CC:Learn Project comes at an opportune time when the Government of Malawi is doubling its effort to address the challenges of climate change," Mr. Yona Kamphale said. He pointed out that the human resource capacity dimension addressed by the Project was instrumental for Malawi for implementation of the UN Framework Convention on Climate Change (UNFCCC). Mr. Kamphale thanked the Swiss Government, the UN Institute for Training and Research (UNITAR) which hosts the UN CC:Learn Secretariat as well as the UN Development Programme (UNDP) Malawi for the support rendered to the Government of Malawi in combating climate change.
Dr. Yanira Ntupanyama, Director of Environmental Affairs in the Ministry of Natural Resources, Energy and Environment highlighted the importance of utilizing existing study reports such as the Training Needs Assessment (TNA) and the Capacity Needs Assessment (CNA) which have identified capacity gaps in the area of climate change.
Mr. Jan Rijpma, Assistant Resident Representative, UNDP Malawi, speaking on behalf of the UN Resident Coordinator, Mr. Richard Dictus, pointed out that the UN Country Team in Malawi welcomes the UN CC:Learn Pilot Project as it complements the existing National Climate Change Programme (NCCP) and provides an opportunity to strengthen linkages between the NCCP and the national education and training system.
Ms. Amrei Horstbrink, UNITAR/UN CC:Learn Secretariat highlighted that the Project in Malawi was part of a pilot initiative involving five countries, including Benin, the Dominican Republic, Indonesia, Malawi and Uganda. She congratulated Malawi for the multi-sectoral and multi-stakeholder collaboration in developing the Project, as reflected in the 30 support letters that were submitted as part of its application for the project.
Session 2: Introductory Presentations
The workshop commenced with two introductory presentations. Ms. Amrei Horstbrink, UNITAR/UN CC:Learn Secretariat presented UN CC:Learn from a global perspective. She pointed out that UN CC:Learn was a One UN initiative involving 32 multilateral organizations that aimed at supporting countries in taking a strategic and results-oriented approach to climate change learning and skills development. She emphasized that the UN CC:Learn pilot projects applied the principles of the 2005 Paris Declaration, including country ownership, empowerment of national institutions, and alignment of donor support with national priorities.
Mr. Yona Kamphale, Ministry of Finance and Development Planning, introduced the UN CC:Learn Project in Malawi from a country perspective. He highlighted that climate change had major implications for weather-sensitive sectors (e.g. environment, agriculture, water, etc.) and human systems (i.e. human health and settlements). Expected benefits from the Project include: enhanced knowledge and skills of individuals fostered through a strategic framework, optimal use of synergies, and strengthened capacity of national learning institutions. He indicated that the Project would be implemented through the existing structures of the National Climate Change Programme. "Overall supervision of the Project will be ensured by the National Steering Committee and the National Technical Committee on Climate Change, as well as through involvement of the Government-Development Partners Working Group on Climate Change", Mr. Yona Kamphale emphasized.
Session 3: International Experiences on Education and Climate Change
The third session of the Workshop provided an opportunity to discuss international experiences on climate change education and training. Ms. Deepa Pullanikkatil, from Leadership for Environment and Development (LEAD) Southern and Eastern Africa gave an overview of the organization's activities, including a global fellowship programme and different short courses on climate change in Malawi. Ms. Pullanikkatil pointed out that "we need to go beyond traditional class room learning." In this context, she highlighted the importance of on-the-job training, continuous learning and experience sharing, as well as innovative approaches such as the LEAD "Radio Listeners Club" that allows citizens to report on their experiences with climate change.
Session 4: Taking Stock of National Climate Change Priorities, Initiatives and Capacity Development Challenges
Session 4 featured a presentation by Ms. Jane Swira, Project Manager, Ministry of Finance and Development Planning on national climate change priorities, initiatives and capacity development challenges. She highlighted that the Malawi Growth and Development Strategy (MGDS) includes Climate Change, Natural Resources and Environmental Management as one of nine priority areas. Medium term strategies under this priority area include: integrating climate change into national and sectoral policies and plans; reducing greenhouse gas emissions; strengthening & harmonizing policy regulatory frameworks; improving capacity for adaptation and mitigation; as well as promoting education, training and public awareness. National initiatives to address climate change and develop related capacities include, amongst others, the development of a Climate Change Atlas; a Communication strategy and a REDD+ Strategy; as well as the formulation of a National Investment Plan. In total over 158 climate change related projects were currently implemented in Malawi. To support these activities a coordinated and strategic approach to education, training and skills development was needed.
Mr. Jan Rijpma, UNDP, made a presentation on "International Climate Change Agenda and Creating Linkages with International Development Partners". He gave an overview of relevant international climate change frameworks, highlighting that multiple funding windows for climate change adaptation and mitigation exist. Mr. Rijpma highlighted that public funds, as those provided through the UN CC:Learn Project, should be catalytic in nature. "The development of a National Strategy creates an important opportunity to catalyze additional funds and activities to strengthen human resources, learning and skills development to address climate change", Mr. Rijpma pointed out.
Session 4 further provided an opportunity for several national and international actors to share their perspectives. Dr. Fritz Kadyoma from the Malawi Institute of Education (MIE) stated that school education had a significant multiplier effect and was an effective way to reach out to communities. It was therefore important to consider training on climate change for primary and secondary school teachers as well as for curriculum developers. Mr. James B. Chimphamba from the Department of Geography, Chancellor College, indicated that the College was developing a specialized degree on climate change science. Ms. Caroline De Vit, Consultant on International Climate Strategies, Ecofys, introduced a project that supports the development of Nationally Appropriate Mitigation Actions (NAMAs) and low-carbon development strategies in Malawi. Mr. Babiker Elimam, World Food Programme (WFP) pointed out that the WFP was a new player in the climate change field, as the Programme was shifting its focus from emergency food responses to sustainable livelihoods and long-term food security.
Session 5: Developing a National Strategy to Strengthen Human Resources and Skills
Session 5 started with a presentation by Ms. Amrei Horstbrink on the methodology for developing a National Strategy to Strengthen Human Resources and Skills to Advance Green Low Emission and ClimateResilient Development. She indicated that the Strategy development process would include a more detailed assessment of national learning needs and of institutional capacities to deliver learning action. The assessment would provide the basis for identifying concrete priority action to strengthen learning and skills development and strengthen national institutions to deliver climate change learning. Mr. Jollam Banda, Chief Economist, Ministry of Finance and Development Planning introduced the draft Terms of Reference (TOR) and Work Plan for the development of the National Strategy in Malawi. He indicated that the Strategy would be developed over the next 8 months under the guidance of the National Technical Committee on Climate Change.
Session 6-7: Parallel Working Groups and Plenary Presentations
In Session 6 participants split into three working groups to (1) review the draft TOR and Work Plan; (2) review a draft list institutions to be involved in the National Strategy development process; and (3) review the proposed surveys for the assessment of learning needs and delivery capacities.
Key points that resulted from the group discussions included:
The importance of working through existing structures (i.e. the Technical Committee) while at the same time ensuring the participation of relevant actors that were not yet part of the Committee.
The need to build on the results of the CNA and TNA. While the CNA and TNA focused on national policy institutions, the UN CC:Learn Project would provide an opportunity to cover also other levels of governance (district/community levels) and to reach out to education and training institutions.
The importance of combining training with institutional capacity development.
Workshop Closing
In the Closing Session, Mr. Alex Namaona of the Ministry of Finance and Development Planning outlined the way forward. He told the meeting that the Ministry of Education Science and Technology, through the Malawi Institute of Education, will be the lead partner in implementing the Project. He also expressed hope that the Project will go beyond the 18 months considering the importance and focus of the issues being addressed. In his closing remarks, Mr. Gray Munthali, Chair of the National Technical Committee on Climate Change thanked all participants for their valuable contributions.