In response to the climate change challenge, the Republic of Uganda has initiated a range of capacity development initiatives involving various sectors, such as agriculture, disaster risk management, and water. With the goal to strengthen coordination, foster a results-oriented approach to climate change learning, and enhance the involvement of national education and training institutions, Uganda initiated a national UN CC:Learn Project entitled "Strengthening Human Resources and Skills to Address Climate Change" on 29 February 2012 in Kampala. The National Planning Workshop was organized by the Ministry of Water and Environment, Climate Change Unit. It brought together more than 60 participants from various government sectors, education and training institutions, Members of Parliament, private sector, civil society, UN organizations (UNDP, UN-HABITAT, UNITAR, WFP) and other development partners (DANIDA, GIZ).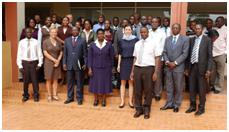 Opening and Introduction
In her opening remarks the Hon. Minister of State of Environment of Uganda, Ms. Nabugere Munaaba Flavia highlighted that climate change was one of the priorities included in the National Development Plan and that human resources development was critical to its implementation. In this context practical skills development remained a challenge in Uganda as education was often too theoretical. The UN CC:Learn Project therefore needed to concentrate on training and education that enabled people to perform specific functions and tasks. "What we expect from the Project are practical and cost-effective proposals for strengthening human resources, learning and skills development to make a real difference," said the Minister.
Mr. Sory Ouane, World Food Programme (WFP) Representative and WFP Country Director highlighted that the UN system in Uganda fully supported the application and participation of Uganda to participate in UN CC:Learn. He stated that capacity development was one of the key areas of the Joint UN Programme on Climate Change of Uganda and that the UN would align its support with country priorities. He emphasized: "Government needs to be in the driver's seat."
Mr. Paul Isabirye, Coordinator, Climate Change Unit, National UNFCCC Focal Point and National Coordinator for the UN CC:Learn Project presented the national context of the Project. He indicated that the National Planning Workshop set the stage for the development of a National Strategy to Strengthen Human Resources and Skills to Advance Green, Low Emission and Climate Resilient Development. The Strategy would support the country to meet its obligations under the UN Framework Convention on Climate Change (UNFCCC). At the same time linkages to other multi-lateral environmental agreements like the UN Convention on Biological Diversity (UNCBD) should be ensured.
Ms. Amrei Horstbrink, from the UN CC:Learn Secretariat based at the UN Institute for Training and Research (UNITAR) introduced UN CC:Learn from a global perspective. She highlighted that the Project in Uganda was part of a pilot initiative involving five countries, including Benin, the Dominican Republic, Indonesia, Malawi and Uganda. The overall goal of the projects was to foster a strategic and results-based approach to climate change learning and skills development through national institutions/systems.
Session 2: Taking Stock of National Climate Change Priorities, Initiatives and Capacity Development Challenges
The second session of the Workshop provided an opportunity to take stock of existing national climate change priorities, initiatives and related capacity development challenges. Mr. Joseph Epitu, Principal Training Officer, Ministry of Water and Environment gave a brief introduction to the concepts of learning and skill development. Participants then split into three working groups. Challenges/issues that resulted from the group discussions included:
Climate change was not yet integrated into curricula for primary and secondary education. However learning materials on climate change for primary schools were currently under development. In terms of tertiary education, several universities had started developing modules/programmes on climate change, and opportunities for coordination have emerged.
NGOs and private sector organizations were undertaking various climate change initiatives with a capacity development component, including community trainings, awareness-raising campaigns, and workshops for small-holder farmers, among others. Similarly, opportunities for information exchange and knowledge-sharing have evolved.
Government sectors encountered challenges in meeting their climate change related objectives due to inadequate knowledge and skills. While several sectoral strategies include a skills development component, further coordination and cross-sectoral cooperation was needed.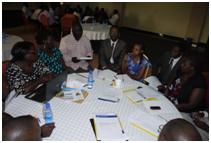 The Planning Workshop provided an opportunity for participants to have in depth discussions about the Project methodology, TOR and Work Plan.
Session 3: Development of the National Strategy
The third session focused on the methodology, Terms of Reference (TOR) and Work Plan for developing the National Strategy. After short introductory presentations by Ms. Amrei Horstbrink and Mr. Paul Isabirye participants reviewed and discussed the draft TOR and  Work Plan and identified key actors that should participate in the development of the National Strategy. Summarizing the working groups discussions, Bob Natifu, Communications Officer, CCU and Focal Point for the UN CC:Learn Project pointed out that the National Strategy would need to be consistent with other national policies and strategies such as the national Climate Change Policy (currently under development), the National Education Policy 2010-2015 and the Strategic Plan for Skilling Uganda.
Workshop Closing
In his closing remarks Dr. Kisamba Mugerwa, Chairman of the National Planning Authority said: "Strengthening human resource capacities is a strategic investment for the development of Uganda." He thanked all participants for their valuable contributions.