The Right Honourable Ms Halima Daud MP, the Malawi Minister for Environment and Climate Change Management, launched Malawi's Climate Change Learning Strategy today, in front of a full house at the Sunbird Lilongwe Hotel. The strategy implementation has already started. For example, a poster in English and vernacular language was produced and field tested, then printed in 15,000 copies as teaching aids for primary schools. The poster was distributed in the more than 5000 Malawian primary schools. Additionally, specific training on climate change was provided to more than 200 frontline forestry extension workers and 200 health surveillance staff.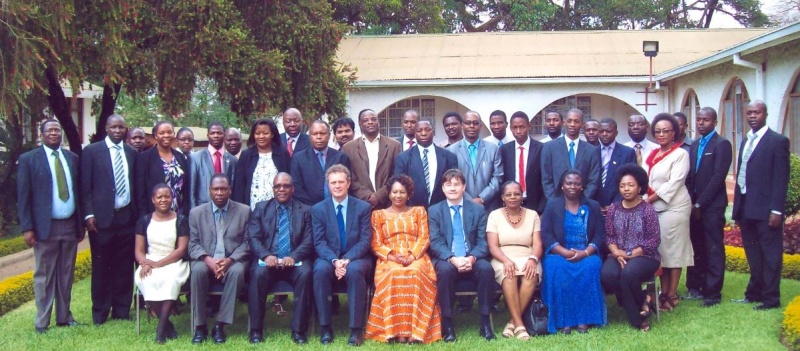 "Socio-economic wellbeing is being affected by climate change" stated Ms Daud to an audience consisting of representatives from 12 government ministries, city councils, academic institutions, national and international NGOs, donors and UN agencies. She thanked all those involved in developing the strategy, particularly the Government of Switzerland for its financial support that is helping front line staff in education, health and forestry to better understand and communicate key messages on climate change. She challenged other donor partners to emulate the Swiss example and specifically to work with all government sectors in reviewing and strengthening their training plans. Minister Daud also highlighted the strong commitment to climate change expressed by H.E. Mrs Joyce Banda, the President of the Republic of Malawi.
Further opening comments were provided by Mr Aloysius Kamperewera, Director of the Environment Affairs Department, Mr Jan Rijpma on behalf of UN Resident Coordinator Ms Mia Seppo, and Mr Angus Mackay on behalf of the UN Climate Change Learn Partnership (UN CC:Learn). Mr Kamperewera stated that children should be helped to think for themselves about climate change since they represent the future and should not be placed in a position where they are 'caught unawares'. He also reflected on the fact that climate change is now recognized as a key element in the country's growth strategy.
Mr Rijpma underlined the links between climate change, the Millennium Development Goal on food security, and disaster risk management. He also explained how the Learning Strategy has been fully integrated into the government's National Climate Change Programme, supported by UNDP.
Mr Mackay congratulated the Ministry of Economy and Development as well as the Ministry for Environment and Climate Change Management, not only for preparing the strategy but also for beginning to operationalize in a number of priority areas. "Climate change learning is an insurance policy for the future" he stated, reflecting also that Malawi is one of the first countries globally to apply a systematic approach to climate change learning. The launch ceremony was concluded with a ceremonial ribbon cutting and the distribution of hard copies of the strategy to all participants.
To access Malawi's Climate Change Learning Strategy, click here.