Building and Implementing a National Climate Change Learning Strategy
Launched in 2012, the Dominican Republic's national climate change learning strategy sets out a national framework for coordinated and enhanced action to strengthen the learning the country needs for a greener future. The strategy is directly linked to the National Development Strategy (2030) of the Dominican Republic and other policy instruments that promote a new model of low emission and climate-resilient development.
By 2030, the Dominican society has an education system and implements public policies that generate institutional capacities and human resources to address the challenges of climate change adaptation and mitigation." – Strategy vision
The strategy is being rolled out by a national Implementation platform, which supports resource mobilization, coordinates the implementation of priority actions, and fosters the sharing of information and learning materials among key partners. The strategy is available in Spanish and can be downloaded below.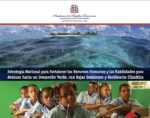 Our National Partners
Our work in the Dominican Republic is implemented under the leadership of the National Council on Climate Change and Clean Development Mechanism, or CNCCMDL, which brings together 11 government sectors, as well as universities, the private sector and civil society organizations.
Contacts
Mr. Moisés Alvarez
Under Secretary and Director
Clean Development Mechanism Office
National Council for Climate Change and Clean Development Mechanism
Winston Churchill #77, 5to Piso
Tel.: 809-472-0537
Fax: 809-227-4406
Email: onmdl@cambioclimatico.gob.do
UN Country Team Liaison
Ms. María Eugenia Morales
Programme Official
Environment and Renewable Energy Unit UNDP Dominican Republic
Phone: +1 809 537 0909
Email : Maria.Morales@undp.org
Project News and Activities
UN CC:Learn Featured during 7th ACE Dialogue
19 June 2019 | Bonn, Germany
Over 3,200 Teachers in the Dominican Republic Trained through Climate Change Education Course
25 October 2017 | Dominican Republic
Agreement in Dominican Republic to Integrate Climate Change in Higher Education
30 July 2015 | Santo Domingo, Dominican Republic
The Dominican Republic's UN CC:Learn Programme Leverages USD 1 Million in National Funds for Climate Change Teacher Training
30 July 2015 | Santo Domingo, Dominican Republic
Vice President of the Dominican Republic Launched National Strategy to Strengthen Human Resources and Skills to Address Climate Change
7 August 2012 | Santo Domingo, Dominican Republic
Policy Briefing Session Discusses Road Map to Develop and Launch National Strategy in the Dominican Republic
24-25 April 2012 | Juan Dolio, Dominican Republic
Dominican Republic Workshop Identified Priority Action to Strengthen Climate Change Learning
24-25 April 2012 | Juan Dolio, Dominican Republic
Ministerial Support for Climate Change Education and Training in the Dominican Republic
7 February 2012 | Santo Domingo, Dominican Republic
Dominican Republic Takes Important Steps to Advance the National UN CC:Learn Project
22 November 2011 | Santo Domingo, Dominican Republic