Climate change adaptation has been brought to the fore at COP26 as developed countries pledged billions of dollars to help developing nations and the Least Developed Countries (LDCs) adapt to climate change. During the negotiations, nature-based solutions (NbS) were often heard as a key factor to be considered when developing adaptation strategies. In this context, ecosystem-based adaptation (EbA), which refers to the use of NbS for adapting to climate change, can be a valuable instrument to deliver a wide range of benefits that boost overall development and human wellbeing, and contribute to national adaptation strategies that respond to the triple crises of biodiversity loss, climate change and the global post-pandemic recovery.
To highlight the importance of EbA in the National Adaptation Planning (NAP) process, UNITAR and UNEP have partnered up to develop the Building Climate Resilience through Ecosystem-based Adaptation Planning e-course as part of the National Adaptation Plan – Global Support Programme (NAP-GSP), a joint initiative by UNEP and UNDP.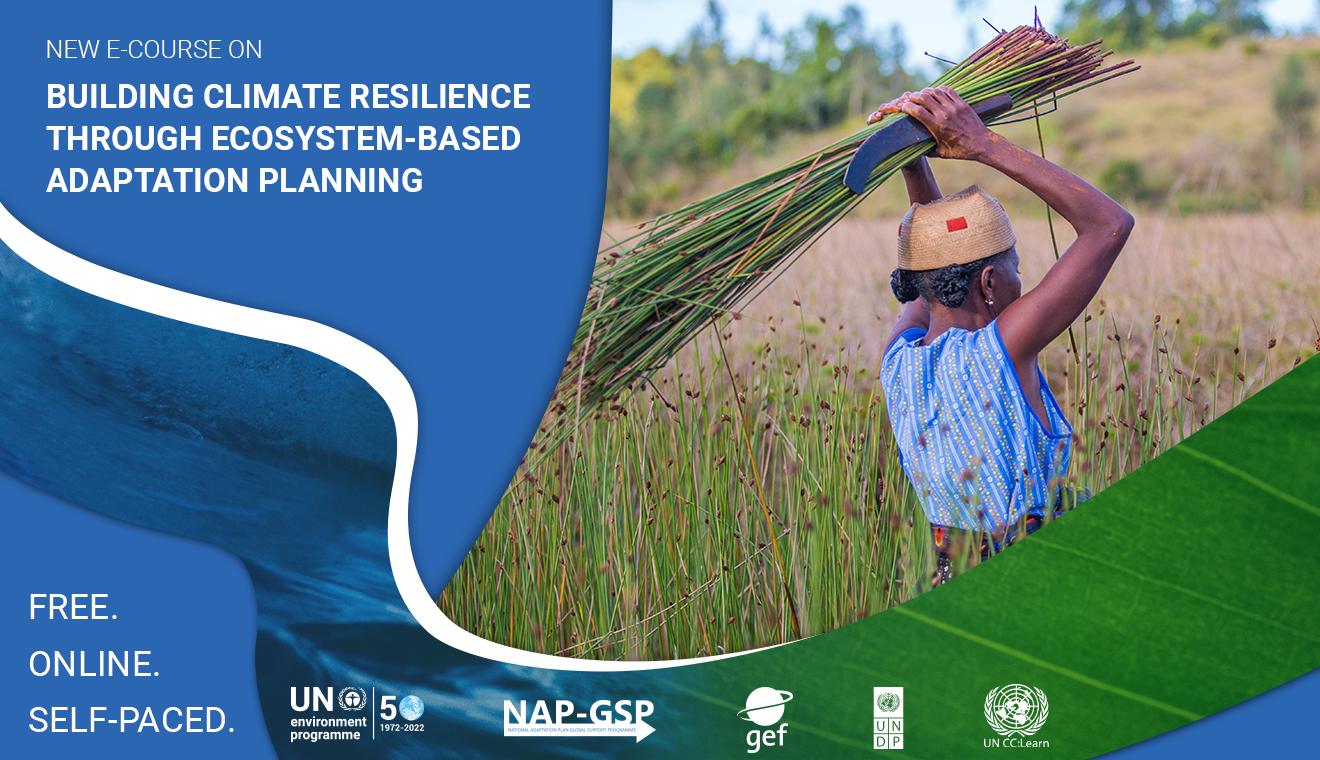 This new free and self-paced e-learning resource builds on information from the Guidelines for Integrating Ecosystem-based Adaptation into National Adaptation Plans, a publication jointly developed by UNEP, UNDP and IUCN's Friends of EbA (FEBA), with the purpose of helping adaptation practitioners at national and local levels to factor ecosystem functions and services into a country's National Adaptation Plan processes and instruments. Through its three interactive modules, comprising videos, texts, quizzes and assessments, this e-course will highlight the key concepts, tools, examples, and steps for integrating EbA in the NAP process.
After completing the course, participants will be able to:
Explain the importance of NbS for climate change adaptation and sustainable development
Discuss how integrating EbA into NAPs enables countries to comply with international commitments (e.g., Paris Agreement, 2030 Agenda for Sustainable Development, Sendai Framework for Disaster Risk Reduction)
Explain how EbA works, including the challenges, opportunities, and additional benefits beyond adaptation of securing healthy ecosystems
Outline how to look for funding opportunities, and how to formulate, implement and mainstream EbA options
Explain and integrate EbA in the formulation, implementation, and review stages of the NAP process
Upon completing the course, participants will receive an official UN Certificate of Completion.
Take the course here today.