Key sectors and stakeholders in Malawi defined strategic priority areas and related action to strengthen climate change learning in the country at a workshop on 19 March 2013 in Lilongwe. The workshop to review and validate the National Climate Change Learning Strategy brought together around 30 participants from different Government sectors, education and training institutions, civil society, and development partners. It was co-organized by the Ministry of Economic Planning and Development (MoEPD) and the newly created Ministry of Environment and Climate Change Management (MoECCM) in the framework of the national UN CC:Learn Project. The UN CC:Learn Project in Malawi is part of the National Climate Change Programme (NCCP), which aims at mainstreaming and addressing climate change issues in the national development agenda through multi-sectoral coordination.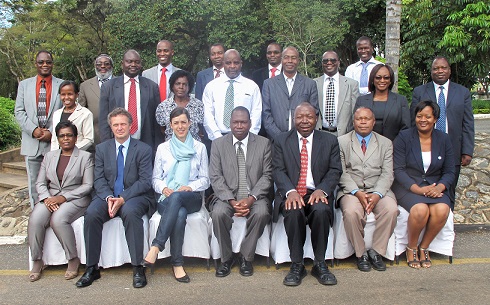 Opening
In his opening remarks, Mr. Yona Kamphale, Director of Economic Planning, MoEPD highlighted: "The vision of the Strategy is that by 2030 Malawi has a vibrant education and training system that responds to the learning and skills development challenge posed by climate change". He thanked the Swiss Government, UN CC:Learn and the UN Development Programme (UNDP) for their financial and technical support to the Project.
Mr. Fritz Kadyoma from the Malawi Institute of Education (MIE), an implementing partner for the national UN CC:Learn Project, highlighted that the Strategy development process was fostering efforts to integrate climate change in the formal education system. Following the National Planning Workshop for the UN CC:Learn Project in March 2013, the MIE had worked with Leadership for Environmentand Development (LEAD) to integrate climate change into different subject areas at secondary level as part of the current curriculum review.
Mr.Jan Rijpma, Assistant Resident Representative, UNDP Malawi and Ms. Amrei Horstbrink, UNITAR/UN CC:Learn Secretariat, emphasized that the UN was working as One to support the development and implementation of the National Strategy. The workshop was chaired by Mr. Gray Munthali, Chair of the National Technical Committee on Climate Change, MoECCM.
Workshop Objectives and Context
Ms. Jane Swira, Project Manager, NCCP, pointed out that the objectives of the workshop were to gather feedback from participants on the draft Strategy and to agree on an implementation framework. Ms. Swira also presented key steps taken so far in the Strategy development process, including a National Planning Workshop held on 7 March 2013 in Salima; development of a Background Report based on a Capacity and a Training Needs Assessment; as well as expert consultations and focus group discussions.
National Strategy Document
Mr. Kenneth Gondwe and Mr. Geoffrey Chavula (PhD), both University of Malawi – The Polytechnic, introduced the National Strategy document. The Strategy outlines three priority areas for action with the following objectives:
Priority Area 1: Human and Institutional Capacity Development:
To develop a critical mass of human resources with requisite understanding, knowledge and skills to respond to the impacts of climate change
Develop strong organizations to champion public awareness, education and training in various aspect of climate change Priority Area 2: Sustainable Financing:
To ensure sustainable financing for climate change learning Priority Area 3: Cross-Cutting Issues:
To take into account gender considerations in climate change learning programmes
To include climate change learning activities in sectoral policies and strategies
For each strategic objective a number of proposed action and activities are included in the Strategy. Ms. Amrei Horstbrink provided some guidance and suggestions on how to further develop the action in a results-based manner and evaluate results at different levels (individual, project, strategic).
Implementation Framework
Participants agreed that the Strategy will be implemented in the framework of the NCCP with the MoECCM as the coordinating agency. The implementation of specific priority actions can also be spear-headed by sectoral Ministries or other relevant implementing partners, that are well placed to implement the respective activities. In terms of funding of the Strategy, participants highlighted the importance of creating linkages with the Climate Change Investment Plan currently under development. Monitoring and evaluation functions for the Strategy will be provided by the Planning Unit of the MoECCM, which reports to the MoEDP.
Planning of Next Steps and Closing
The final draft ofthe Strategy document is expected to be available mid-April, and to be further validated by the National Technical Committee on Climate Change. The final Strategy document will be adopted by the National Steering Committee on Climate Change which is chaired by the Principal Secretary of the MoEPD. A launch event bringing together high-level representatives from Government, civil society, learning institutions, the private sector, UN agencies and other development partners is planned for May 2013.
About UN CC:Learn
UN CC:Learn is a partnership of 33 multilateral organizations which supports Member States in designing and implementing results-oriented and sustainable learning to address climate change. The Secretariat for UN CC:Learn is provided by UNITAR. An important aspect of UN CC:Learn is to support countries in developing a National Strategy to Strengthen Human Resources and Skills to Advance Green, Low Emission and Climate Resilient Development, through a multi-sectoral and multi-stakeholder process. During the course of 2012-2013, Benin, the Dominican Republic, Indonesia, Malawi, and Uganda are participating as UN CC:Learn pilot countries. Core funding for the 2011-2013 implementation phase of UN CC:Learn is provided by the Swiss Government.
Presentations
The workshop featured the following presentations: