Human-driven climate change is expected to cause 250,000 additional deaths per year from 2030 to 2050, as well as billions of extra costs to countries throughout the globe. Also, the COVID-19 pandemic has highlighted the important interlinkages between human health and the state of our environment and economies. As societies expand and develop, addressing human health and climate change as two intertwined topics has never been so important.
In light of these challenge and aiming at supporting delegates participating in the upcoming UN climate change negotiations (COP26), UN CC:Learn, the United Nations Institute for Training and Research (UNITAR), the World Health Organization (WHO) and Climate Tracker have developed a brand new e-course on Climate Change Negotiations and Health.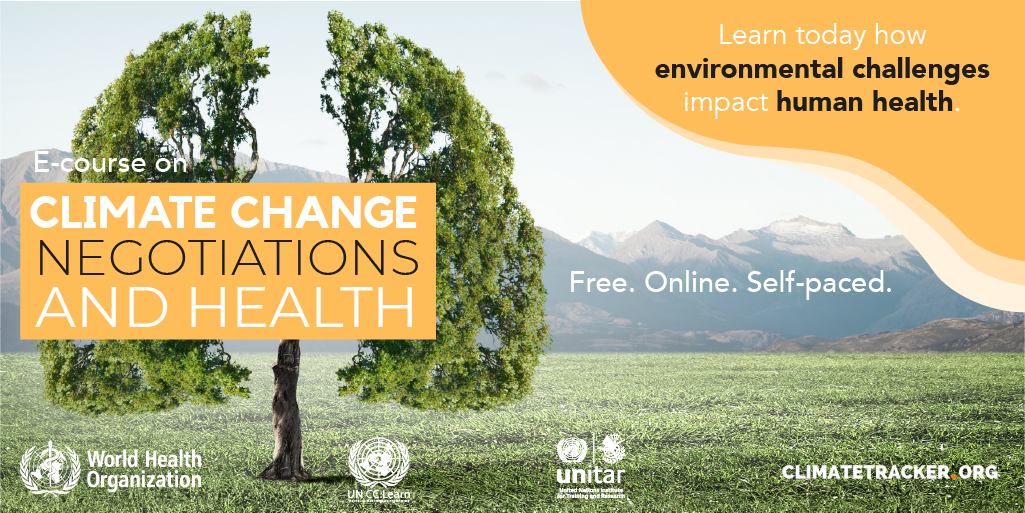 The newly launched e-course is entirely self-paced, has 6 lessons and takes an average of 3 hours to be completed. It unveils the interlinkages between climate change and health and sheds light on how international treaties on climate change address health issue. Additionally, the course is supported by two webinars on negotiation skills (webinar 1and webinar 2). Upon completion of the course, users will be able to:
Explain how climate change affects health.
Recognize the international climate change policy framework.
Identify the Parties and groups of Parties to the UNFCCC, the Kyoto Protocol, and the Paris Agreement, including their respective commitments and negotiation positions.
Describe the outcomes of past negotiation sessions.
Discuss the key issues in the ongoing international climate change negotiations, particularly in relation to the promotion of health priorities and the integration of health in all policies.
The course is open to anybody interested. However, it should be of particular interest to the following audiences:
Health sector professionals participating in international climate change negotiations and in national climate change-related processes;
Environmental sector professionals participating in international and national climate change processes as well as climate change negotiators;
Other interested government officials and practitioners;
Academics and university students;
Other individuals interested in learning about the promotion of health priorities in the context of climate change and climate change negotiations.
Upon satisfactory completion of the course, which means scoring 70% or more in the final quiz within 3 attempts, users will get an official UN CC:Learn certificate.
Take the course here.