A four-day training was conducted in Bohicon, Benin for staff of the Ministry of Environment in charge of Climate Change Management, Reforestation, and Protection of Natural and Forest Resources and related organisations to strengthen capacities to access different climate change funding sources. Altogether 30 staff were trained. The training was organized under the leadership of the Ministry of Environment in collaboration with the local Centre d'Education à Distance (CED) and the Frankfurt School UNEP Collaborating Centre for Climate & Sustainable Energy Finance, with support from UN CC:Learn.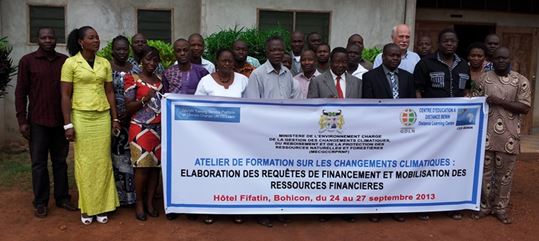 The objectives of the training were to:
Provide different actors involved in the design, development, implementation and monitoring of climate change projects with an overview of existing funding sources at the national and international level;
Allow participants to identify the most realistic and immediate finance sources;
Familiarize participants with different resource mobilization techniques;
Strengthening capacities of participants to develop bankable project proposals.
The training included an overview of funding sources available for climate related projects and techniques to formulate coherent and relevant projects that can be submitted to climate funds. Short presentations on project development (with the help of the logical framework) and proposal writing techniques were followed by practical work on selected project themes.
The Environment Ministry is planning a follow-up session in a few weeks' time to evaluate the status of the funding proposals that were initiated during the training. The presentations, background materials, exercise instructions and evaluation results will be used to inform future trainings on climate finance to be delivered by the CED.