Benin has taken a major step forward in defining national priority action and an implementation framework to strengthen climate change learning and skills development. The workshop to validate the National Strategy to Strengthen Human Resources and Skills to Advance Green Low Emission and Climate Resilient Development took place on 18-19 December 2012 in Cotonou, Benin. It was organized by the Ministry of Environment, Housing and Urbanism (MEHU) in the framework of the national UN CC:Learn Project and brought together over 50 participants from different Government sectors (environment, economy, education, development, finance, forestry, fishery, agriculture, energy, water, coastal protection), education and training institutions, civil society, and development partners. Financial support was provided by the Swiss Development Cooperation (SDC) through the UN CC:Learn Project as well by the Office of the UN Development Programme (UNDP) in Benin.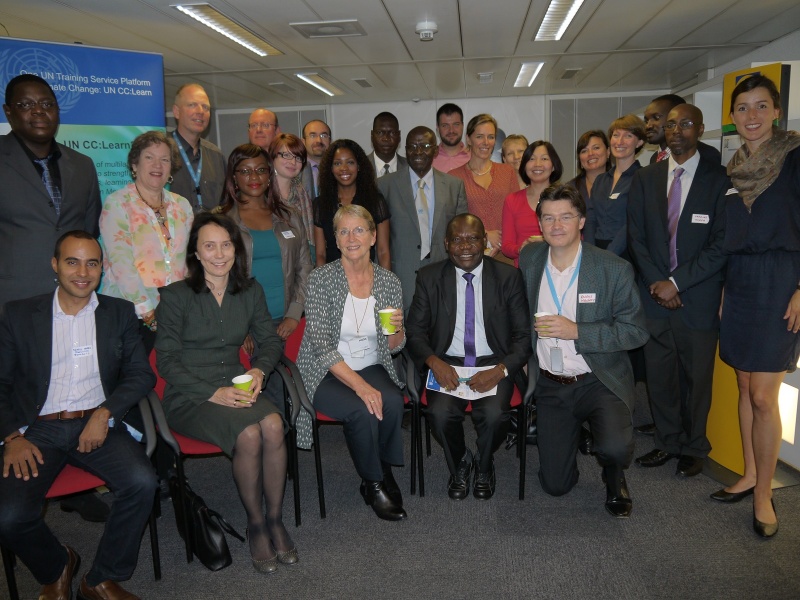 Opening and Workshop Objectives
Speaking on behalf of H.E. Mr. Blaise Ahanhanzo-Glèlè, Minister of Environment, Housing and Urbanism, Mr. Césaire Gnangle, Director General for Environment, MEHU welcomed all participants. He highlighted: "In order to effectively adapt to the impacts of climate change, it is essential to strengthen our education and training system and raise awareness at various levels". He also thanked the Swiss Government, UN CC:Learn and UNDP for their financial and technical support to the Project. Mr. Mathieu Houinato, Programme Officer, UNDP speaking on behalf of Ms. Nardos Bekele Thomas, UN Resident Coordinator in Benin, emphasized that UNDP and the UN system in Benin are committed to supporting the implementation of the National Strategy.
The workshop was chaired by Mr. Ibila Djibril, Technical Counselor on Environment and Nature Protection and National Focal Point for the UN Framework Convention on Climate Change (UNFCCC), MEHU, who thanked all sectors and stakeholders for their contributions to the National Strategy development over the past year. The process covered a National Planning Workshop held on 10 November 2011, an assessment of learning needs and capacities to deliver learning action involving over 100 institutions in March-May 2012, as well as a technical mid-term workshop to review a first draft of the National Strategy on 6 June 2012.
Mr. Léonce Glèlè Ahanhanzo, Coordinator of the national UN CC:Learn Project in Benin, presented the objectives of the workshop. He pointed out: "Through our discussions today and tomorrow, we aim to develop recommendations for the finalization of the Strategy document, discuss the implementation framework for the National Strategy, and identify institutions interested in implementing selected priority action."
National Strategy Document
Mr. Nestor Aho, Professor, Faculty of Agronomic Science, University of Abomey-Calavi introduced the National Strategy document. The Strategy defines five strategic orientations (OS) for action including:
OS 1: Strengthening individual capacities in formal education
OS 2: Strengthening individual capacities in informal education
OS 3: Strengthening individual capacities in non-formal education
OS 4: Developing institutional capacities of the education sectors
OS 5: Developing institutional capacities of other key sectors
Each strategic orientation is accompanied by a number of concrete priority action which include for example, not exclusively:
Strengthen the capacities of teachers and students in higher education to design and manage climate change projects (OS 1)
Train media professionals and artists on issues related to climate change to strengthen public awareness-raising  (OS 2)
Train parliamentarians as well as officials working in the public administration and local authorities on integrating climate change issues in legislation and regulations (OS 3)
Develop and adopt a study program that takes into account climate change aspects at the level of nursery, primary, secondary, as well as technical and vocational education and training (OS 4)
Strengthen the capacities of the General Directorate for Energy, the Electric Power Company of Benin, as well as non-governmental organizations to improve energy efficiency in production and consumption (OS 5)
Implementation Framework
The Strategy document was reviewed by workshop participants who split up in different working groups. An important element discussed was the framework for implementing the National Strategy. Participants agreed that the Strategy implementation will be supervised by a National Steering Committee composed of Ministers from different sectors and representatives of other key institutions, as appropriate. The Committee will be chaired by the MEHU as the national focal institution for the UNFCCC.
A Coordination Team chaired by the General Directorate for Environment (DGE) will identify, for each priority action, relevant actors that will be involved in planning and implementation. The Team will also develop a draft work plan for the implementation of the Strategy, which will be validated by all stakeholders. While the DGE/MEHU will play a coordinating function for the Strategy implementation, the individual priority actions will be implemented by concerned sectoral Ministries and partners. Monitoring and evaluation functions will be provided by the National Climate Change Committee, which will be expanded, if necessary, to also include other key actors, for example from the education sector.
Planning of Next Steps and Closing
Ms. Amrei Horstbrink, UNITAR/UN CC:Learn Secretariat outlined a number of questions and recommendations to be considered for the finalization and launch of the National Strategy. In the subsequent discussion, participants developed a detailed work plan for the next weeks. The final Strategy document is expected to be approved by the Council of Ministers in February 2013. A high-level launch event bringing together representatives from government, civil society, learning institutions, the private sector, UN agencies and other development partners is planned for March 2013.
In his final remarks, Mr. Constant Houndénou, Climate Change Policy Adviser/Boots On the Ground Programme and Specialist Crisis and Natural Disasters Management, UNDP, emphasized the importance of linkages between the National Strategy and other initiatives and projects, including the UN Development Assistance Framework (UNDAF) 2014-2018 which is currently under development. Ms. Amrei Horstbrink congratulated all sectors and stakeholders for a successful workshop and thanked the UNDP office in Benin for their collaboration and continued support to the Project and the National Strategy. Mr. Ibila Djibril closed the workshop thanking all participants for their time and commitment.
Presentations
The workshop featured the following presentations: