In September 2020, UN CC:Learn achieved an important milestone: the issuance of the 100,000th certificate of course completion on its e-learning platform. This special certificate was issued on 11 September 2020 to a who had successfully concluded the Green Fiscal Policy course. In order to acknowledge this important accomplishment, an event – which was held on 18 September 2020 – brought together people both virtually and in-person to discuss the partnership and the challenges of promoting climate literacy.
The event was hosted on Zoom and live-streamed on YouTube. 15 people attended the ceremony in-person and over 1,000 people followed it online. The line-up comprised individuals who have contributed to UN CC:Learn history: Mr. Nikhil Seth, UNITAR's Executive Director, who highlighted the importance of continuing to promote global climate literacy in innovative ways, Mr. Angus Mackay, Head of the UN CC:Learn Secretariat, who noted the increasingly different audience currently following UN CC:Learn's courses, Mr. Vincens Coté, who was the programme's coordinator from 2014 to 2017 and recalled how it all started 5 years ago, and Ms. Janine Kuriger, Head of the Global Programme Climate Change and Environment at the Swiss Agency for Development and Cooperation, who reflected on this milestone and perspectives for the future.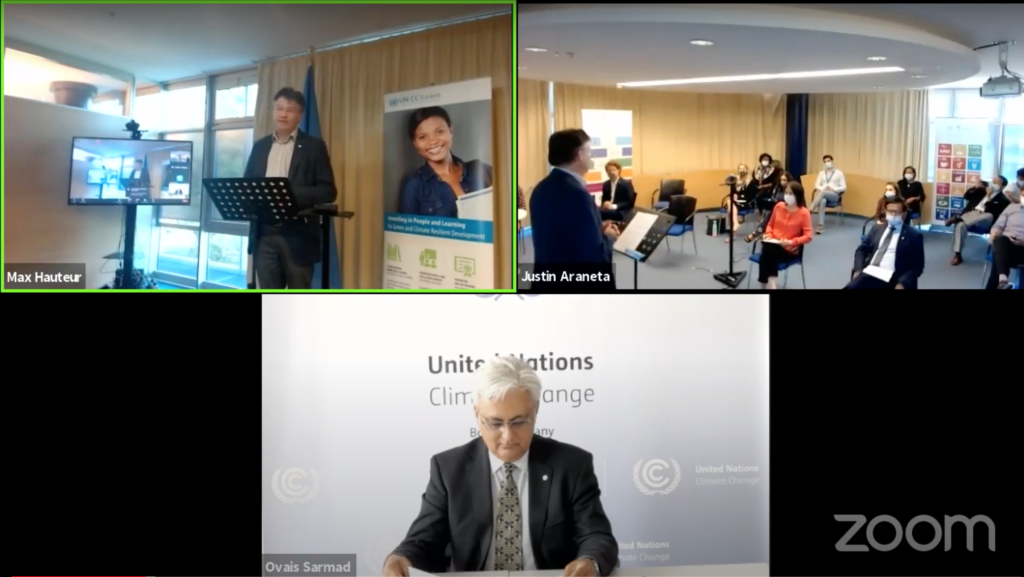 Some partner agencies also joined the celebration. Mr. Ovais Sarmad, Deputy Executive Secretary at the UN Climate Change Secretariat talked about the contribution that UN CC:Learn is giving to the fight against the climate crisis and thanked everyone who took some time to complete one of the 27 e-courses available. Representing the World Meteorological Organization, Dr. Elena Manaenkova, who acts as Deputy Secretary-General at the organization, noted the evolution of the program since its very early stages and its relevance for one UN collaboration in the area of climate change learning, stressing WMO's support. The event was moderated by Ms. Cristina Rekakavas, UN CC:Learn program coordinator.
As part of the event, a "behind the scenes" video was screened with the purpose of walking viewers through the processes behind the program's course development, giving them a glimpse of the everyday work being done by the UN CC:Learn Secretariat.
To conclude the event, UN CC:Learn launched a new challenge, engaging the 400,000 UN CC:Learn alumni to take part in the "100k Stories for Climate Action" initiative, which will last for one month and will reward the best 10 stories.
You can access the recordings of the event here.