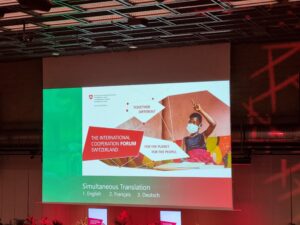 On 16th February 2023, the UN CC:Learn team was present at the International Cooperation Forum (ICF) in Geneva, Switzerland, to exchange with youth on solutions to advance sustainable development and address climate change. Ms. Cristina Rekakavas, Coordinator of the UN CC:Learn programme, shared the UN CC:Learn experience on-site in front of an audience of around 80 people. She highlighted the work UN CC:Learn has done over the past decade to build global climate change literacy and engagement across different axes, focusing in particular on its e-learning platform.
This is one of the largest e-learning platform globally specifically dedicated to climate change and green economy, with 50 free, self-paced e-courses on a broad range of topics. She highlighted that over 667,000 learners from all over the world have already been accessing the platform and over 250,000 certificates have been issued, with high participation of young people up to 34 years old.
In addition, she showcased the UN CC:Learn Climate Quiz, which helps individuals assess their climate change knowledge and get tailored tips and recommendations for additional learning. She concluded her interventions by noting how all these resources are supporting change, mentioning key results from the UN CC:Learn alumni surveys and presenting two stories of young alumni who had created environmental organizations in their countries.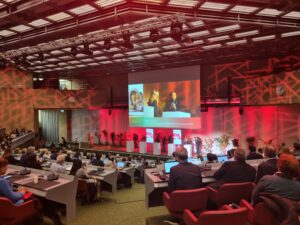 The ICF is an event organized by the Government of Switzerland to bring together different stakeholders with the purpose of promoting international cooperation to address key global challenges. This year's topic was "Education4Future" and had education and youth at the core of its discussions. The event took place at CICG, in Geneva, over the 15th and 16th of February 2023 and was held in a hybrid setting, with participants being able to attend it in person or online.
The event featured several interventions from experts and high-level speakers, including from Mr. Ignazio Cassis, Minister of Foreign Affairs and Federal Councilor of Switzerland, who stressed the importance of good quality and universal education.
Every individual, every child, has the right to education. Without education, there is no development." – Ignazio Cassis, Federal Councilor of Switzerland.
The Forum also provided an opportunity for participants to exchange and discuss about a multiplicity of education-related topics, ranging from innovative investments in education to inclusivity and digitalization, to the development of future- and market-oriented skills.