"Scientific knowledge on climate change is fundamental to implementing successful adaptation and mitigation" said key note speaker, Dr Rachmat Witoelar, at a national workshop on Climate Change Knowledge Management held at the prestigious Institute for Technology, Bandung (ITB). The workshop was hosted by the Indonesia National Council on Climate Change (DNPI) in collaboration with ITB, representing immediate follow up on the implementation of the National Climate Change Learning Strategy of Indonesia (more information on the Strategy here).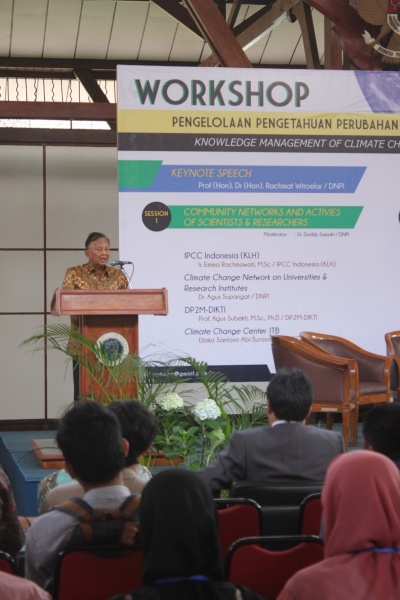 A hundred and sixty participants from the scientific community, including national research institutes as well as private and national universities took part.
In his opening speech, Prof. Ahmaloka, Rector of the ITB, expressed his organisation's willingness to contribute at the national and international level on developing and sharing scientific knowledge concerning climate change. Dr Rachmat Witoelar also emphasized the importance of climate change knowledge for all sectors of planning, in particular for  city planning.
Discussion topics:
The event was organised around the following discussion topics:
What is knowledge management and how can it be applied to climate change information
How to establish a national climate change research network
The role of research in developing climate change policies.
This last subject was presented by Dr. Hardiv H. Situmeang, the Executive Director of the ASEAN Centre for Energy (ACE) and member of World Energy Council.
This event was organised with the support of the One UN Climate Change Learning Partnership (UN CC:Learn).