The Experts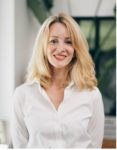 Jeanette Coombs-Lanot, Sustainability Advocacy Lead, Danone
Jeanette leads Danone's global advocacy for sustainability topics. In this role, she builds positions and policies for environmental and social topics, and works with internal and external partners to activate them. Before joining Danone, Jeanette served in the U.S. Mission to UNESCO and the OECD, where she catalyzed and helped spearhead a number of global initiatives to strengthen intercultural understanding and foster inclusive growth. When she isn't on zoom calls, Jeanette is usually chasing her two small children around the streets of Paris. 
The Class
Why is private sector action important? A recent study has estimated that the private sector can close between 10 to 30 percent of the so-called "Paris Gap" – the difference between the 2015 Paris Agreement and what that agreement will achieve by 2030 if all countries comply with their commitments. So what are the key initiatives and trends that are structuring private sector action? And how can we expect private sector action to evolve in the future? This classroom will look at the steps that Danone – a large global food and drinks company – has taken to combat the impacts of climate change.
The Details
Thursday, 11 November 2021 – 10am GMT – Register here.
Resources for Additional Learning
More info soon.