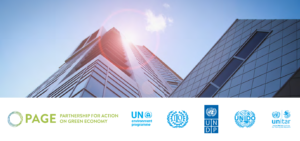 E-Learning for a Green Recovery
Over the next 18 months, it is estimated that economic investment into national recovery packages will reach up to US$ 20 trillion. The make-up of these financial decisions will define the shape of our societies, our economies, and our environment for decades to come. We now sit at a "make or break moment" for both humanity and our planet, and the need for informed decision-making to support a green recovery is, therefore, greater than ever.
This is where the "Learning for a Green Recovery" campaign has been developed. Under the auspices of the Partnership for Action on Green Economy, five UN agencies—UN Environment Programme, International Labour Organization , UN Development Programme, UN Industrial Development Organization  and UN Institute of Training and Research—have launched a global e-learning series that addresses the key policy issues central to the green recovery debate. The six online courses are available via UN CC:Learn Platform and are free and self-paced, allowing you the freedom to take them at your convenience. As a package, they aim to inform and shape the public policy debate around green economic reform and ultimately support countries in planning their responses to COVID-19.

How to take the courses?
To start taking one of our courses, you need to register to the platform and then enroll in the course(s) you are interested in.
To register:
Go to the sign-up page.
Choose to register either with your email or Google account and then fill out the form.
Check the inbox of the email address you provided for registration and confirm your account, by clicking the link on the email sent by us.
To enroll:
Log in with your username and password to the platform.
View all the courses available by clicking on "All Courses".
Click on the course you want to enroll.
On the course page, with its description and syllabus, click on click on "Enrol me".
UN Opinion Leader's Endorsements