The Expert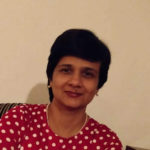 Dharmistha Chauhan, International Consultant, UN Women
Dharmistha is an economist by training and has around 21 years of experience in the field of gender and community-led sustainable development. She has worked extensively in South and South-East Asia with a focus on enabling people's participation in land and water management. Over this time she has worked with a wide range of international organisations, including UN Women, UNICEF, UNDP, Agence Française de Développement (AFD), Oxfam International, ARROW (Malaysia) and Home Net South Asia.
The Class
Climate change impacts the realization of human rights across all parts of the world. However, it particularly affects the human rights of those that have contributed the least towards it – resulting in climate injustice. Women and girls are often the most vulnerable, due to gender differentiated roles, responsibilities, and power structures that exist across most societies.
While gender equality is important in its own right, it can also be an important ingredient to the success of climate adaptation and risk mitigation activities. This class will therefore look at how gender issues can be mainstreamed into climate negotiations, as well as how women can be involved as equal partners and actors in inclusive resilience-building processes.
Sign up

Monday, 14 November 2022 – 10AM CET – Register here.
Resources for Additional Learning