The Experts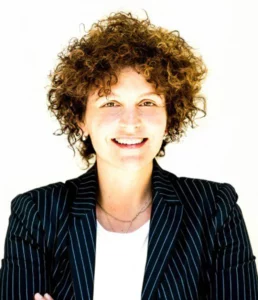 Sara Roversi
Sara is an experienced social entrepreneur and thought leader in the food ecosystem. As a seasoned growth expert, she works with globally recognized, high-profile think tanks on setting the agenda for the sustainable food industry. Described as a game-changer who knows how to drive change, she has a flair for exploration and prosperity thinking. Over the past 10 years, she has focused on a mission to take food leaders and youth to the next phase of action through education, research projects, and innovation challenges. In 2013, she founded Future Food: a purpose-driven ecosystem facilitating positive transformation in life on earth, promoting food innovation as a strategic element to achieve sustainable and impactful growth, and in 2020, after the pandemic broke out, she birthed the Pollica – Paideia Campus, a Mediterranean Living Lab, a prototype of a sustainable village, where one can learn a new kind of sociality and live the concept of integral ecology, combining environmental protection and human health, regeneration of the territory and citizens' well-being, social justice, and climate change. She is the Italian Focal Point for the network of the Emblematic Communities of the Mediterranean Diet UNESCO, she recently co-founded the goodaftercovid19.org initiative.

Cristina Petracchi
Cristina Petracchi heads the FAO multilingual  eLearning Academy, that has reached over 800,000 learners worldwide and is the result of a collaborative effort involving more than 400 partners over the globe. Ms Petracchi manages and coordinates the design, development, delivery and language adaptations of an extensive portfolio e-learning courses and blended learning programmes, related to Nutrition and Sustainable Food Systems, food safety, Food Loss and Waste, Climate Smart Agriculture, sustainable management of natural resources. Ms Petracchi engages actively in consolidating partnerships across United Nations agencies, academic institutions and universities, regional organizations, CSOs and NGOs, for capacity development initiatives and has created a number of University Masters' and Post Graduate Degree Programmes. In addition to a University Degree in Biological Sciences, Ms Petracchi holds a PhD in Nutrition and Food Science, and has several years of capacity development field experience in various countries worldwide.
The Class
The interconnection between climate, food systems, and urban development is evident by looking at the current paradoxes and dysfunctions affecting the global society as a whole, in each dimension of life. Today's agri-food system is "feeding" food insecurity, environmental degradation, resource extraction, climate disasters, and food injustice – all aspects that lead to collective impoverishment and ultimately damage human health and survival. We cannot talk about shaping the cities of the future without adequately training today's citizens to be conscious, sensitive, and active Climate Shapers.
This class will touch upon the key ingredients to becoming real changemakers, starting from the need to restore human values, reconnect with nature and the natural and cultural landscape, and strengthen a sense of community. Training a new mindset is ultimately what is needed to reverse the current patterns of unsustainability. Design Thinking, Prosperity Thinking, the Food for Earth Regeneration Toolkit, and the Mediterranean Diet/lifestyle model will all represent key tools that will be illustrated to participants as applied not only into new experiential educational models but also into specific urban-rural contexts. The case of the Paideia Campus Living Lab will be used as a best practice of integral ecological regeneration of the whole territory, proving the leading role that cities as Living Labs to design a sustainable future, and reflect on the urgent need to implement and export regenerative models into other foodscapes.
Sign up
09 November 2022 I Online | 10AM CET – Register here
Resources for Additional Learning
* HUMAN AND PLANET CENTERED APPROACH: PROSPERITY THINKING IN ACTION, 2021
* Food for Earth regeneration toolkit, 2020
* Food for Earth: lessons from 24-hour marathon, 2022
* IPCC Report 2022, Climate Change 2022: Impacts, Adaptation and Vulnerability
* FAO E-Learning Academy
* Paideia Campus Living Lab report 2021