The Expert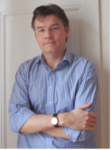 Angus Mackay, Director, UNITAR
Angus Mackay is the Director of UNITAR's Division for Planet with responsibility for aligning all the environmental activities of the Institute with Agenda 2030.  Skills development is a strategic issue that underpins the effectiveness of all national policies, plans and programmes that aim to address pressing environmental challenges, including climate change, chemicals and waste management, biodiversity conservation and the transition towards circular economy. UNITAR undertakes skills assessments to help countries better understand their learning needs and develop national learning strategies supporting inclusive, safe and environmentally sustainable development.  Angus is also a climate change adaptation specialist and lead trainer, and has previously worked for a range of international organisations including the UN Department for Peace Keeping Operations, United Nations Development Programme, UK Department for International Development, World Bank, as well as private sector environmental consulting firms. He has recently been appointed to the Board of the Multi Donor Fund of the Climate Vulnerable Forum (CVF).
The Class
The current language of climate change is complex, multi-dimensional, science-based, and politicised. But climate change impacts us all. It's effects are localized, and are changing everything; everyone therefore has a role to play. We use language to influence the behaviour of others in almost every other aspect of our lives. But are we using the full power of words to save our societies and our planet? This climate classroom will ask whether language could be the active ingredient, in our attempts to build a new "climate zeitgeist."
The Details
Tuesday, 9 November 2021 – 2 p.m. GMT – Hybrid class
Pre-registration for online participants here.
In-person at SDG Pavilion at COP26 on a first come, first served basis.
Resources for Additional Learning
Pew Research Centre, "In Response to Climate Change, Citizens in Advanced Economies Are Willing To Alter How They Live and Work"
TEDx Geneva, "The Tide is Rising"
Bangkok Post, "Nan Sandbox invites the public to join a competition"