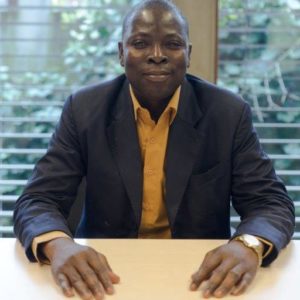 Country: Benin
Organization: Ministry of the Environnement
Contact: medouicom@yahoo.fr
Médard Comlan Ouinakonhan was the assistant project coordinator of the UN CC:Learn project in Benin from 2011 to 2013. As the assistant of the UNFCCC focal point, he worked on the project document, Benin's candidacy, as well as the institutional arrangement which led to the project implementation. He is now the Benin's focal point for Article 6 of the UNFCCC and participates in the dialogues organized by the Secretariat. As such, he is actively participating to the implementation of the national climate change learning strategy.
Médard is a specialist in environment and agronomy field, and in 2007, he received a graduate degree in Environmental Protection and Improvement of Agrarian Systems from the Centre Régional d'Enseignement Spécialisé en Agriculture (CRESA) of the Agronomy Faculty of the Abdou Moumouni University in Niamey (Niger). Before working for the Ministry of Environment, Médard was a teacher for two years at the Collège d'Enseignement Technique Agricole (CETA) of Natitingou.
At the Ministry of Environment, Médard works actively on the implementation of the UNFCCC through several activities, including participation to the sessions of the Convention's organs (SBI et SBSTA) and the COP, the development of National Communications, of the National Adaptation Plan, the elaboration of the Low Emission Climate Resilient Development Strategy, the preparation of Benin to operationalize the Green Climate Fund, etc.