The Challenge
The 1 Million Youth Actions Challenge (1MYAC) aims to encourage youth aged 10 to 30 years old to take concrete actions for a more sustainable future. The objective is to reach 1.000.000 youth actions.
1MYAC works to promote four Sustainable Development Goals (SDGs): SDG 6 on 'clean water and sanitation', SDG 12 on 'responsible consumption and production', SDG 13 on 'climate action' (climate change) and SDG 15 on 'life on land' (biodiversity).

In September 2022, 1MYAC launched its school campaign targeting teachers and educators who wish to mobilise their students to take action against climate change.
How to Participate?
Register and choose a proposed Standard Action for yourself / your group (can also be a youth organization or network) or come up with a proposal of your own. You will have one year to complete the Challenge you committed to. 
For group actions, it is planned that once the action is completed, peers from another team of participants will double-check the successful implementation of the action. This is because in 'real politics' effective monitoring and verification is a major issue addressed at many international negotiations on the SDGs – e.g. at the Conference of Parties (COPs) of the UN Convention on Climate Change (UNFCCC) . 1MYAC intends to show the determination and capability of youth to undergo a peer review process in order to be transparent and accountable for their actions.
The Challenge is available in six languages: English, French, Spanish, German, Portuguese and Russian.
Check the image below with a step-by-step on how to participate.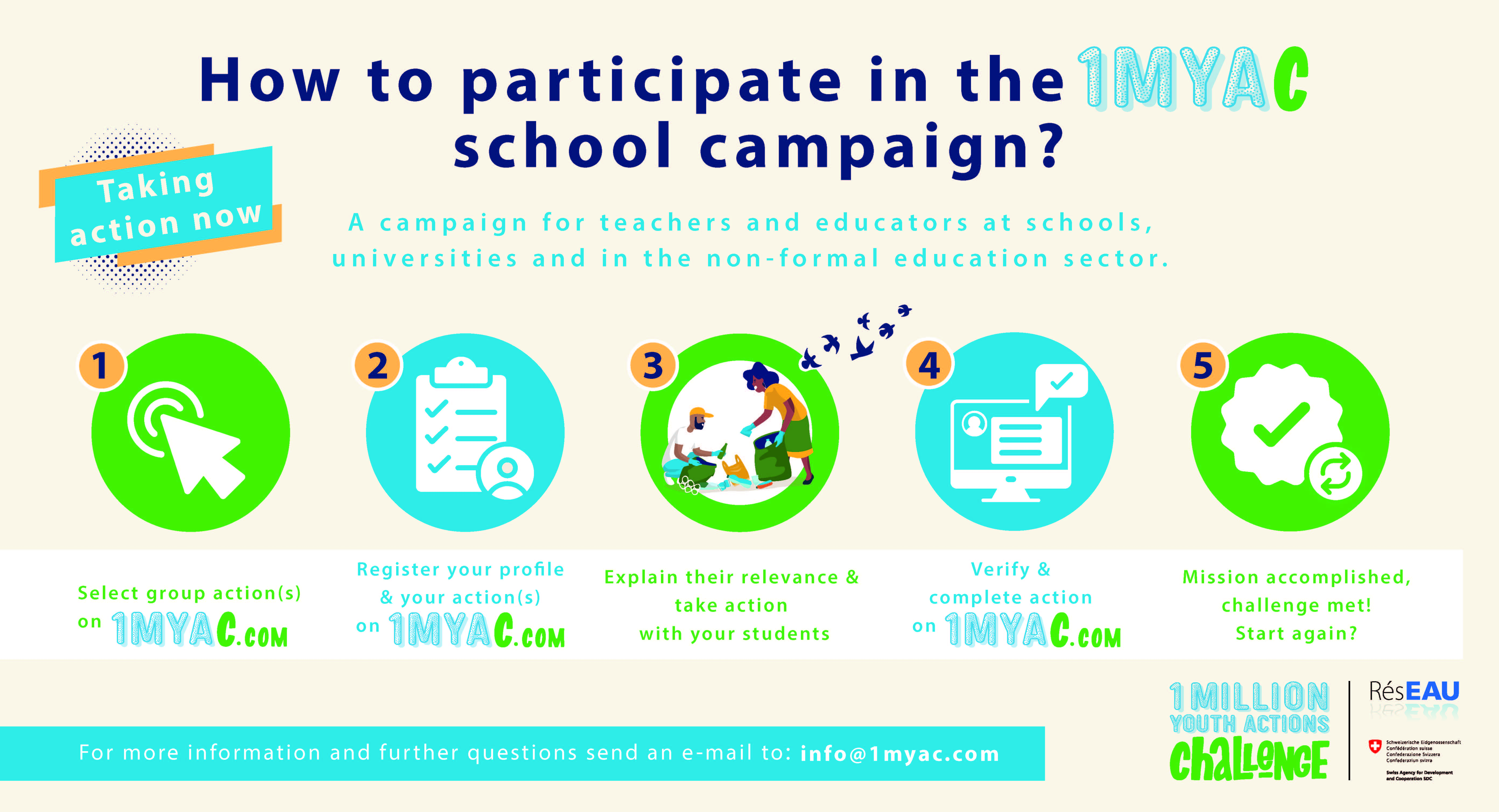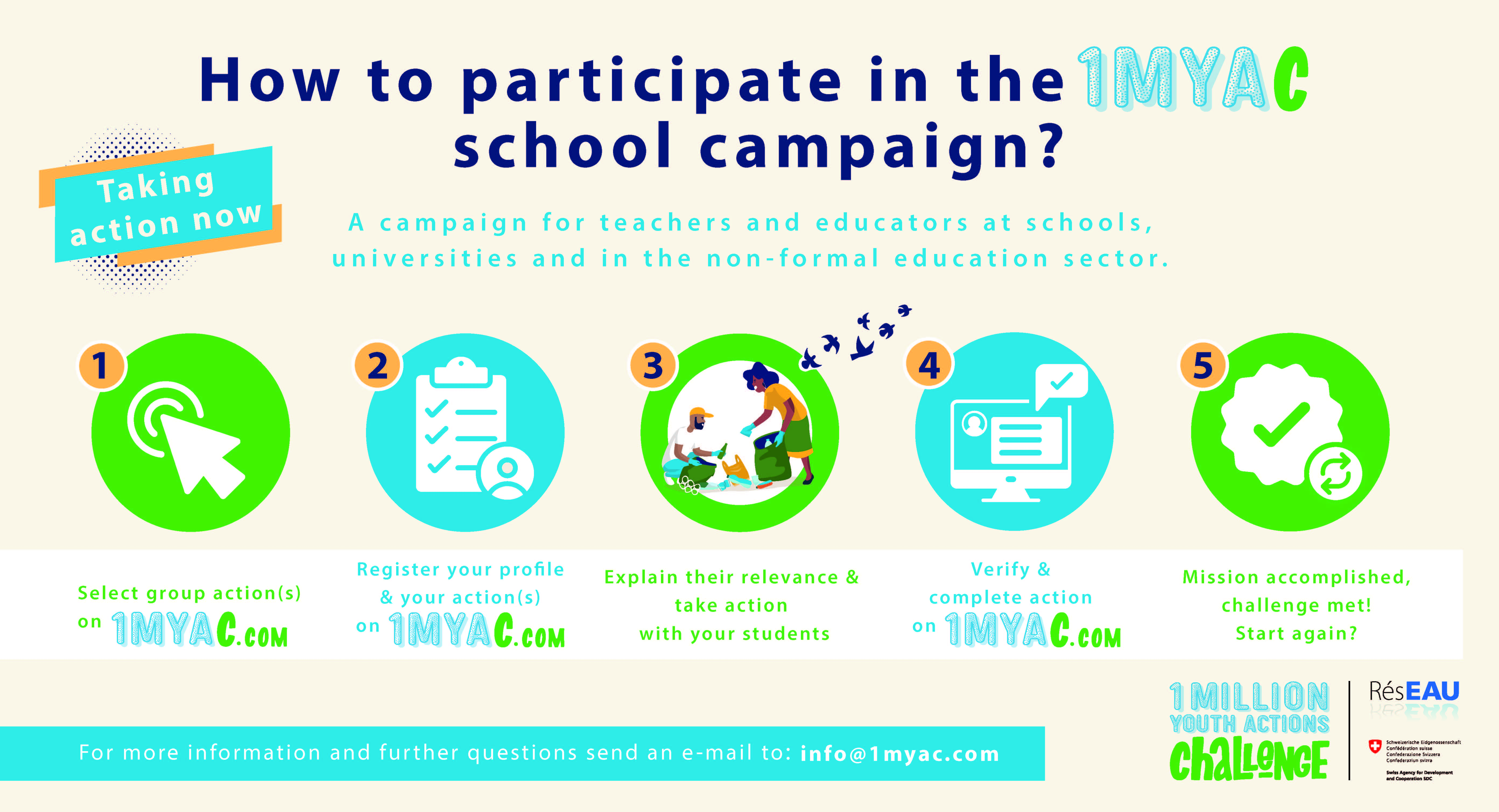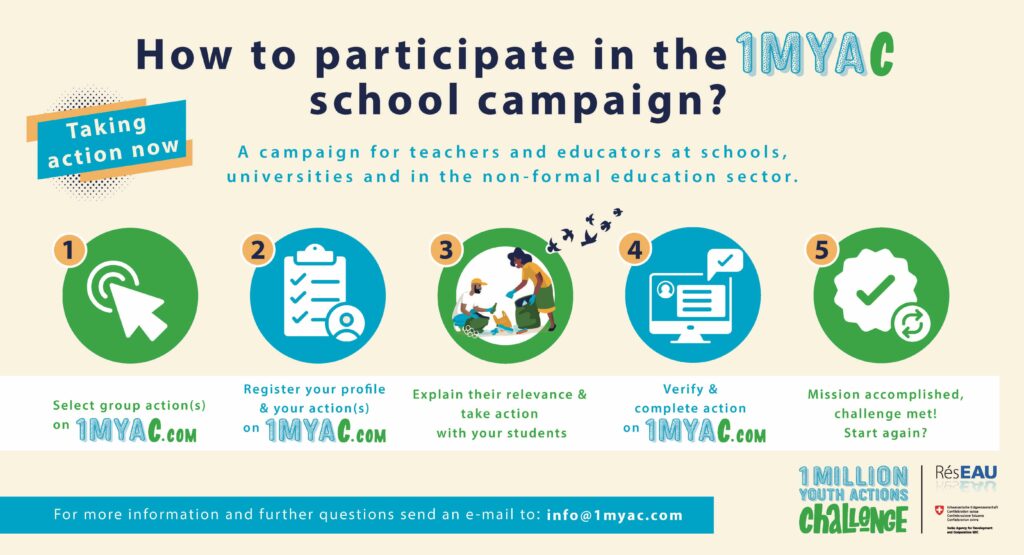 Founders
1MYAC was founded by the Swiss Agency for Development and Cooperation (SDC) and the RéSEAU – SDC's Water Network.
Become a Partner
There are many ways to partner with 1MYAC.
As an individual, you can apply to become an ambassador, who are leaders locally involved in the promotion of the Challenge.
As an institution, there are three different types of partnership with different levels of commitment: promoter, sponsor and focal point. Decide what's best for you and then apply to become an official institutional partner!
Contact
Contact 1MYAC at info@1myac.com.
Affiliation Programme
1MYAC is promoted by UN CC:Learn as part of the UN CC:Learn affiliation programme, which highlights high-quality learning products and resources on climate change developed by recognized institutions outside the framework of the UN CC:Learn programme / without support from the UN CC:Learn Secretariat, in accordance with specific affiliation criteria. The objective of the UN CC:Learn affiliation programme is to enhance global climate literacy through the dissemination of high-level learning products and resources that complement UN CC:Learn initiatives.