The UN CC:Learn team would like to invite you to celebrate our 100,000th certificate issued!
When: Friday, 18 September 2020 at 3pm (CET)
Where: Follow the event on Youtube channel and Facebook
It is only due to the commitment of our learners that we have achieved this result and all thanks to you.
In this spirit, UN CC:Learn would like to invite you and your friends to join us on Friday, 18 September to celebrate.
The one-hour event will be streamed online via Youtube and Facebook and will bring together different guests that have made an important contribution to the programme's history so far, such as UNITAR Executive Director Mr. Nikhil Seth, the former UN CC:Learn Coordinator, Mr. Vincens Cote, and many others. Due to COVID-19 restrictions, only a small number of guests will be able to attend the ceremony in-person. 
At the end of the event, the UN CC:Learn team will invite its alumni to participate in a challenge, with the details of this challenge to be unveiled during the event.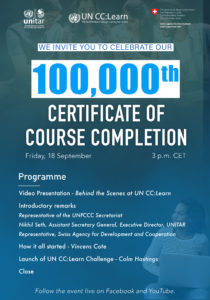 Join us and meet our team!