Climate-savvy school classrooms are essential if we are to meet climate change challenges. Teachers and students have to be knowledgeable of climate issues so they can be part of the solution.
Our dedicated portal for teachers offers five courses specially curated to enable teachers to describe and explain:
All courses include interactive lessons, tutorials, quiz and videos. The courses are available in English, Spanish and French and UN CC: Learn issues certificates of completion for each completed course.
Register today and join our teacher community: unccelearn.org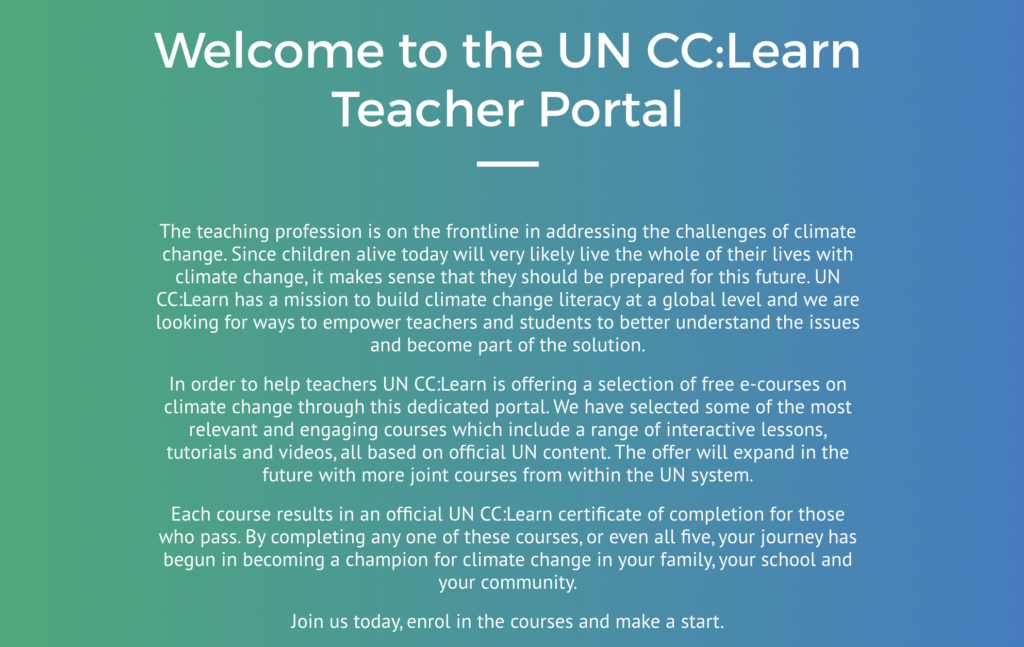 Who are our teachers
Teachers from all over the world face a demanding task. The recurrent interest by youth in climate change and its negative impact on human activities and the environment have raised the demand for addressing this issue in the classroom. Therefore, teachers and educators have a transformative role in re-orient education to support low carbon and sustainable future. Our teachers, mostly women, have been playing a pivotal role in taking forward a whole-school response in addressing climate change across the curriculum. Check below what our teachers have been saying about our courses:
As a young science teacher, I have been passionate about my climate change lessons. This course has updated and expanded my understanding of how climate change will affect us and what my students from secondary school can do to use their voices and take control of their futures". – Teacher from Australia
This is the course that needs the most in education of any individual. This should be a high priority, compulsory course for every teacher and student". – Teacher from Indonesia
As an educator, I have been introducing growing curriculum content designed specifically to promote climate change awareness across subjects. I have now undertaken a number of UN CC courses that have truly inspired me, increasing both my level of confidence and conviction when discussing and exploring related issues". – Teacher from Costa Rica
In the news
Khaleej Times, Sustainability on Platter: Dubai School Spearheads e-course
The Guardian, 'New Zeland schools to teach about climate crisis, activism and eco anxiety'
COP25 Press Conference, Calling Teacher to Join the Climate Education Initiative
The Guardian, 'Inside the mission to create an army of Greta Thunbergs'
Sky News, 'Climate change teacher programme'
Sky News, 'Climate teacher: A changing climate demands a change in curriculum'
Sky News, 'Climate change lessons taught in schools as UN accredits teachers'
Il Fatto Quotidiano, 'L'ora di clima nela scuola certificata dall'Onu'
BBC 5 Live Interview, 'Climate change teacher recruitment'
Publico, 'Mi profe de cambio climático nos ha dicho…'
North Tne Government, 'World First for North Tyne Metro Mayor'
The Guardian, 'England region plans world-first for climate change teaching'
Die Welt, 'Berlin students fight to get climate change onto lesson plans'